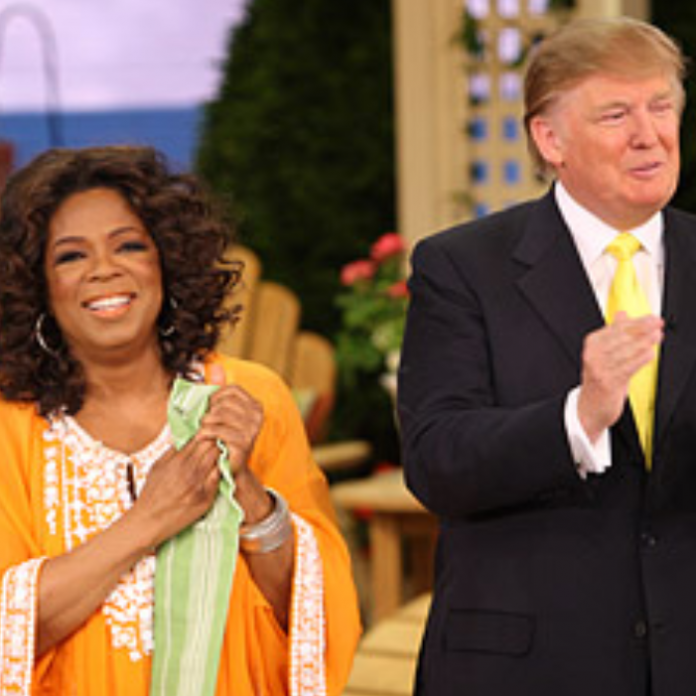 New reports from The Hill affirm that President Trump "welcomes" the opportunity to run against longtime talk show host Oprah Winfrey in the 2020 Presidential election.
Donald Trump vs. Oprah Winfrey?
Within the past 24 hours, many left leaning Americans and celebrities have called upon Oprah Winfrey to make a run for President in 2020. This is after her speech at the 2018 Golden Globe Awards in which Winfrey condemned sexual assault against women and championed the importance of victims being heard and believed.
While many people have questioned how President Trump would feel about potentially running against Winfrey, the Commander-in-Chief is apparently fine with it.
A White House spokesperson released the hereinafter statement earlier today:
"We welcome the challenge, whether it be Oprah Winfrey or anybody else. [President Trump] is absolutely … going to run for President again. Regardless of who decides to run against this President, they are going to have to face a President who has record-setting achievements in a record-setting time."
How Do Americans Feel About Winfrey Running For Office?
Additional reports state that many Democrats are thrilled by the notion of Winfrey making a potential run for the Oval Office. "Oprah 2020" trended on Twitter earlier today and various progressives have come out and endorsed the former talk show host.
Hollywood actress Meryl Streep opined that Winfrey should definitely campaign for the Presidency in 2020:
"I don't think she had any intention [of declaring for office]. But now she doesn't have a choice."
A Democratic strategist moreover noted the liberal glee at the thought of a potential President Winfrey:
"I've never seen this much excitement about a potential candidate since Barack Obama. My phone instantly blew up with messages. People seemed genuinely excited about the prospect."
However, not all Democrats are thrilled with the aforesaid idea. Jonathan Tasini, a Democratic strategist, slammed what he views as "celebritiy culture:"
"Maybe we should just elect the President after a special week-long edition of 'Survivor.' Celebrity culture is a cancer. It's dismaying to see people who should know better swooning over such idiocy. Giving a good eight-minute speech to a Hollywood awards event does not make you a qualified candidate for President."
Many conservatives and Winfrey critics also seemed to agree with Tasini's sentiments:
I dont understand how a speech about sexual harassment translates into a presidential candidate. i missed the point. This is more noise. Another oppy to avoid the progress in USA. 4% GDP expected in 2018. Isis being defeated. 2-imp headlines @MorningsMaria @FoxBusiness

— Maria Bartiromo (@MariaBartiromo) January 9, 2018
It's hard to imagine Oprah running for President when she's a rape advocate. Trump would chew her up. pic.twitter.com/YBMJWKpEqN

— TrumpIsMyPresident™ (@Trumpism_45) January 8, 2018
Oprah admits she has mental health issues, the very thing the Democrats want to use to force Trump out of office.https://t.co/ZtgawszMTB

— Ryan Saavedra 🇺🇸 (@RealSaavedra) January 8, 2018