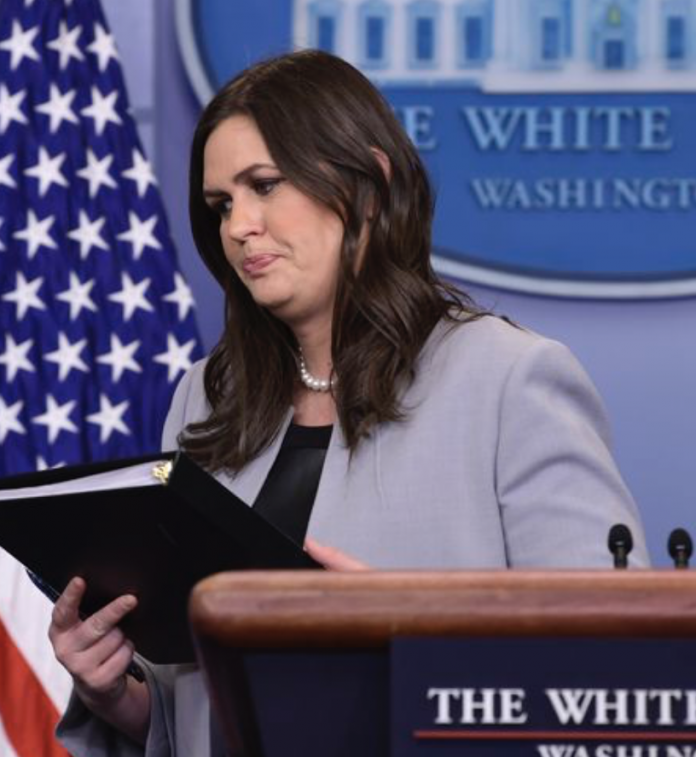 Earlier today, President Donald Trump informed the nation about changes regarding press briefings in the White House.
The Update on White House Press Briefings
The president stated via Twitter that press briefings are decreasing in regularity due to the media's treatment of White House Press Secretary Sarah Sanders.
His tweet reads as follows:
The reason Sarah Sanders does not go to the "podium" much anymore is that the press covers her so rudely & inaccurately, in particular certain members of the press. I told her not to bother, the word gets out anyway! Most will never cover us fairly & hence, the term, Fake News!

— Donald J. Trump (@realDonaldTrump) January 22, 2019
Hogan Gidley, a spokesperson for the current White House, has also spoken out about press briefings in the White House:
"It's not that they've ever stopped; it's just that sometimes we need to come to the podium to communicate things and sometimes we don't. A lot of the times when we don't come to the podium it's because the president has addressed the American people himself."
However, Gidley maintained that Sanders will "absolutely be back at the podium talking to the press and delivering the message to the American people."
The most recent White House press briefing took place on December 18, 2018.
Issues with the Mainstream Media
Throughout the duration of the Trump presidency, issues with the media have existed. During White House press briefings, Sanders has sparred with members of the media, particularly with CNN's Jim Acosta. Like Sanders, Trump also maintains a contentious relationship with Acosta; last year, the two men got into a back-and-forth which resulted in the revocation of Acosta's press pass. However, Acosta quickly regained access to the White House.
President Trump and members of his administration have reiterated that the press is responsible for putting forth fair and accurate news. The mainstream media faces ongoing accusations of perpetrating "fake news" and misleading coverage about the current president. However, the press has pushed back against criticism from the right-wing; mainstream media outlets overwhelmingly assert that they are not publishing fake news.
Issues with the press largely commenced following Donald Trump's announcement of running for president in 2015. Trump regularly expressed concerns that the media purposefully put forth misleading or out of context news in order to sabotage his chances of winning the election. Likewise, many of Trump's supporters vocalized beliefs that the press served as a faction of the establishment who viewed then-candidate Trump as a threat.
The aforementioned belief is still very much alive to this day.