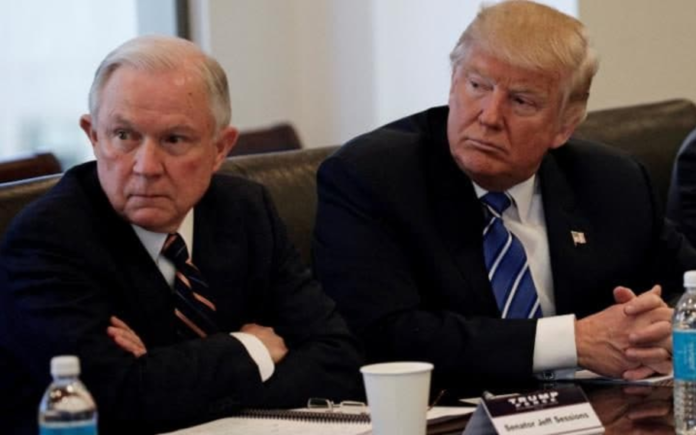 There are many Americans who are not a part of the Jeff Sessions fan club. According to the New York Times, President Trump now falls into that category, as well.
"Sessions should have never recused himself, and if he was going to recuse himself, he should have told me before he took the job, and I would have picked someone else," the President censured.
The Commander in Chief is referring to Attorney General Jeff Sessions' decision to excuse himself from supervising the Russian investigation. President Trump rightfully views Sessions' decision as unfair and inappropriate.
However, Jeff Sessions apparently is not phased by the President's disapproval. As a matter of fact, earlier today, Sessions announced to continue serving as Attorney General so long as he deems it to be appropriate, based on reports from USA Today.
"We had all the major law enforcement leaders in my office yesterday to talk about our unified efforts to improve our crime fighting with state and local officials so I'm totally confident that we can continue to run this office in an effective way," Sessions stated to news reporters.
A considerable amount of Americans interpreted President's remarks as an indirect request for Sessions' resignation. Talk about whether or not the latter will be fired has already surfaced.
Sessions seemingly recused himself from the Russia investigation because, by his own admission, he met with Russian executives during the 2016 Presidential election.
The President is not the only person who has a poor opinion of Sessions' decision to recuse himself from the Russia investigation. Kentucky Senator Rand Paul took to Twitter to voice his agreement with President Trump, stating that Sessions' recusal should not have happened.
Quite frankly, Sessions should resign. Loyalty to President Trump is clearly not his strong suit and he did not help his case by passing an order that allows asset forfeiture of American citizens who have not committed crimes. At this point in time where President Trump has so many people working to sabotage and undermine him, he needs people in his cabinet that will support him and not scamper away at the sight of challenges or difficulties.
If Sessions knew he was not comfortable with overseeing the Russia investigation, he should not have accepted the position of Attorney General. As the head of the Department of Justice, Sessions is responsible for overseeing legal matters. He should have been upfront with the President and simply stated that he was not capable of following his job description. Hopefully, Sessions will be removed from his role as Attorney General, sooner than later, so President Trump can hire a qualified individual who will perform admirably.