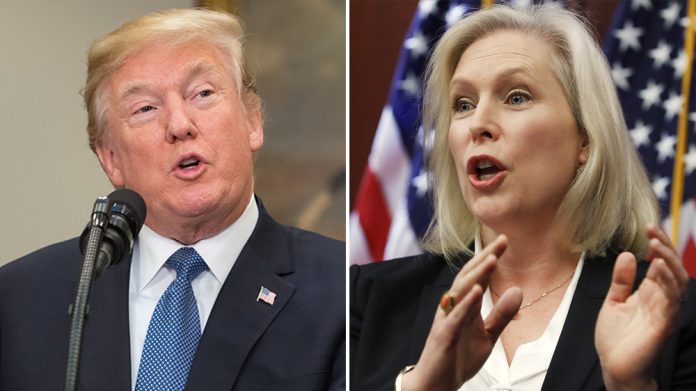 Earlier this morning, President Trump fired back at Senator Kirsten Gillibrand who called for his resignation, as reported by Fox News.
Everything You Need to Know Regarding POTUS' and Gillibrand's Remarks
Following the return of various women accusing President Trump of sexual misconduct, Gillibrand called for his resignation. The Democratic Senator also encouraged the now disgraced Al Franken to resign from Congress after the surfacing of sexual assault allegations and photographic evidence.
However, President Trump did not appreciate Gillibrand's calls for him to resign from office. Shortly after 8:00 AM, the President posted the following tweet about Gillibrand:
Lightweight Senator Kirsten Gillibrand, a total flunky for Chuck Schumer and someone who would come to my office "begging" for campaign contributions not so long ago (and would do anything for them), is now in the ring fighting against Trump. Very disloyal to Bill & Crooked-USED!

— Donald J. Trump (@realDonaldTrump) December 12, 2017
Exactly 50 minutes later, Gillibrand responded with the hereinafter reply:
You cannot silence me or the millions of women who have gotten off the sidelines to speak out about the unfitness and shame you have brought to the Oval Office. https://t.co/UbQZqubXZv

— Kirsten Gillibrand (@SenGillibrand) December 12, 2017
Allegations, Resignations, and Controversies Regarding Sexual Assault
The continuous stream of sexual assault allegations against male public figures has shocked the nation. In addition to birthing the #MeToo movement, Americans everywhere are discussing sexual assault. In past weeks, Speaker Ryan announced his moves to implement training designed to discourage Congressional leaders from committing sexual assault.
America has furthermore attempted to pinpoint the root of sexual assault. Inherent power imbalances in the workplaces was cited as a theory. However, the plethora of allegations have come under scrutiny also. Many people have speculated that some accusations of sexual misconduct can and are being employed as political weapons.
This notion is especially applicable to sexual assault allegations against Republican Alabama Senate candidate Roy Moore. While many Americans were horrified at claims that he behaved inappropriately with 14 and 16-year old girls, others were more skeptical. In essence, critics questioned the timing of the accusations. After the allegations surfaced, Moore denied the claims, citing them as politically motivated.
Weeks later, the nation learned that Beverly Nelson, one of Moore's accusers forged and lied about key evidence. Many Americans immediately affirmed the loss of Nelson's plausibility and furthermore cited the misleading act as proof that all accusations against Moore were trumped up.
In recent days, the people of this nation have questioned whether or not public figures should lose their jobs or resign on the basis of accusations alone. The age old "innocent until proven guilty" factor still remains, note many Americans.
President Trump has denied all accusations of sexual misconduct. He even affirmed them as a tool employed by Democrats after claims of collusion with Russia fell through:
Despite thousands of hours wasted and many millions of dollars spent, the Democrats have been unable to show any collusion with Russia – so now they are moving on to the false accusations and fabricated stories of women who I don't know and/or have never met. FAKE NEWS!

— Donald J. Trump (@realDonaldTrump) December 12, 2017
Trump supporters have rallied behind the President, asserting the aforementioned allegations against him as fake news. Like Roy Moore supporters, most Trump fans perceive the accusations as politically motivated and untrue.