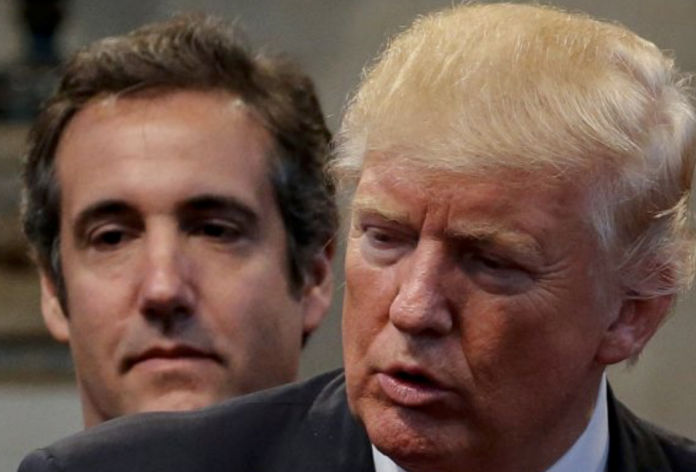 On Friday, President Donald Trump slammed his former attorney Michael Cohen via Twitter, stating that he is "making up stories," reports The Hill.
An Overview of the President's Statements
The president released a series of critical tweets on Friday morning, which read as follows:
Arrived back in Washington last night from a very emotional reopening of a major U.S. Steel plant in Granite City, Illinois, only to be greeted with the ridiculous news that the highly conflicted Robert Mueller and his gang of 13 Angry Democrats obviously cannot find Collusion…

— Donald J. Trump (@realDonaldTrump) July 27, 2018
….,the only Collusion with Russia was with the Democrats, so now they are looking at my Tweets (along with 53 million other people) – the rigged Witch Hunt continues! How stupid and unfair to our Country….And so the Fake News doesn't waste my time with dumb questions, NO,….

— Donald J. Trump (@realDonaldTrump) July 27, 2018
…..I did NOT know of the meeting with my son, Don jr. Sounds to me like someone is trying to make up stories in order to get himself out of an unrelated jam (Taxi cabs maybe?). He even retained Bill and Crooked Hillary's lawyer. Gee, I wonder if they helped him make the choice!

— Donald J. Trump (@realDonaldTrump) July 27, 2018
Cohen's claim that then-candidate Trump knew of his eldest son's plan to meet with Russians at Trump Tower in 2016 directly relates to the ongoing Russia investigation. Special counsel Robert Mueller is currently looking into whether the president and his team colluded with Russia to win the 2016 election.
Since its inception, the Russia probe has been a highly controversial matter. Trump and his supporters have frequently labeled the investigation as a "hoax" and "witch hunt." However, others have suggested that the Russia probe may eventually result in Trump's impeachment and incarceration.
Ultimately, the accuracy of these suggestions (and Cohen's claims) remains to be seen.
A Backstory of Trump-Cohen Drama
This is not the first time that Trump and Cohen have indirectly sparred with one another. CNN recently obtained a leaked audio tape from Cohen's attorney, Lanny Davis. Although some segments are inaudible, the tape appears to center around "financing" and "opening up" a company for the sake of transferring information to David Pecker, who heads American Media Inc (AMI).
Earlier this year, former Playboy model Karen McDougal sued AMI, saying that it paid her $150,000 and made fallacious career promises in exchange for the rights to her story. McDougal claims that she and the president engaged in a 10-month affair in 2006, shortly after Melania Trump gave birth to Barron, Trump's youngest son. However, the president has denied all accounts of an affair with McDougal.
In April, the FBI raided Cohen's office. Officials seized documents that pertained to taxes and various business records. Moreover, the FBI obtained information about a $130,000 payment to adult film actress Stormy Daniels.
Daniels claims she had an affair with Trump between 2006 and 2007. As with McDougal, Trump has denied having an affair with Daniels.
Shortly after the raid of Cohen's office, the president censured the FBI's action as a "real disgrace." Speculations about the extent of Cohen's loyalty to Trump then began to arise.
Additional updates will follow this report as new developments arise.