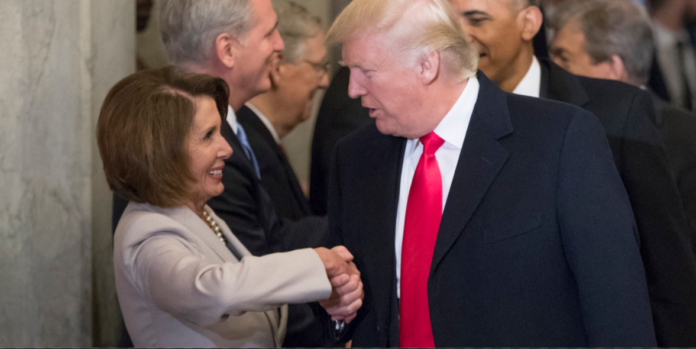 Over the past few days, many conservatives have criticized President Trump for working with Democrat Nancy Pelosi. However, the critics fail to understand that in order to engender meaningful reform the President cannot work with only Republicans.
Bipartisan Unity
Yesterday morning, the National Review posted an editorial piece, slamming the President and accused him of "prosecutorial discretion employed by President Obama." Perhaps the National Review writers should take a seat and understand how engendering reform works.
First and foremost, President Trump will have to work with Democrats. This is not to say he's catering to their agenda or becoming their puppet. To achieve reform, one cannot only work with their own party. Anyone who says otherwise is wrong.
Moreover, part of the reason Congress is in their current mess is due to their inability to work with others. Democrats only want to work with other Democrats. Republicans only want to work with other Republicans. However these two parties justified this mindset is irrelevant. It simply does not work.
Leftist Outrage
Staunch conservatives are not the only ones who disapprove of Trump and Pelosi working together. Liberals are additionally outraged, as noted by the Washington Post. Pelosi recently came under fire by members of her own party for not securing a legal deal for the children of illegal immigrants in her work with President Trump.
Above all, liberals and conservatives need to understand the importance of unity. Working with members of the opposite party is mutually exclusive from traitorship. As a matter of fact, this reality should especially ring true with conservatives. The failure of Obamacare is a direct manifestation of what happens when people refuse to work with differing viewpoints. If nobody is willing to compromise, nothing will get done.
What Should We Expect Going Forward?
In essence, conservatives should expect to see progress going forward. Many Trump supporters have taken to social media to inquire about the status of the wall, tax reform, and other policies. This is quite understandable, however these things are gradually making headway.
President Trump has not even been in office for a full 12 months yet. Nevertheless, he has managed to put tax reform, the end of DACA, and funding for the border wall in motion. We the people are all eager for the President to make America Great again, but it won't happen overnight. For right now, the wisest course of action is for everyone to hold their horses and accept that reform takes time in addition to work with others who may not share our political ideologies.