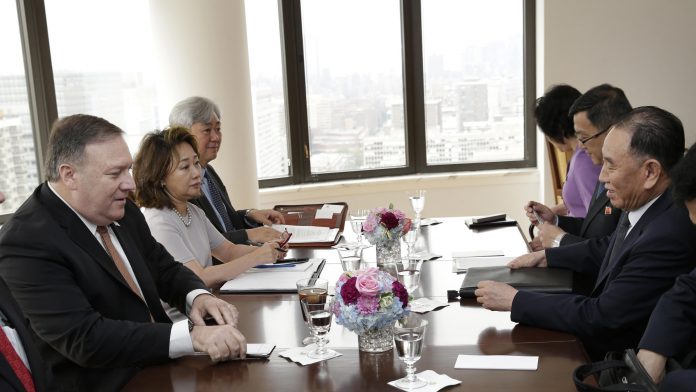 Mike Pompeo, Secretary of State, closed the second day of negotiations on Saturday with North Korean officials. Both sides are agreeing that a deal on denuclearization of the Korean Peninsula needs to be more clarified.
Pompeo met with Kim Yong Chol on Friday for nearly three hours. They talked during a dinner over Kim Jong Un's seriousness about complete denuclearization. Pompeo wanted to be sure that a deal made at the summit in June will start taking action.
Discussions
Pompeo met with a senior ruling party official, Kim Yong Chol. This is Pompeo's third trip to North Korea since April. Also, this is his first trip since President Donald Trump and Kim Jong Un, the North Korean leader, met last month. Both Pompeo and Kim Yong Chol agreed that some elements need to be clarified, but they provided no details. The Secretary of State left North Korea and flew to Japan early Saturday. It's been expected that he will meet with Kim Jong Un, but it's not clear if they met.
Pompeo's last visits were only one-day affairs. This time, he spent the night in Pyongyang's government guest house. He had dinner with Kim Yong Chol. The North Korean officials mentioned this before the two men began their talks.
Clear Goals
There are still no details on what exactly needs to be clarified. Both sides are struggling to determine what denuclearization would entail exactly. It's also difficult to determine the least possible action would satisfy the United States.
Heather Nauert, State Department spokeswoman, told the media that the U.S. has three goals to meet. These goals include security assurances, complete denuclearization of North Korea, and the U.S. soldiers' remains repatriation killed in the Korean War.
Nauert said that the U.S. policy hasn't changed. She was asked why the U.S. officials seem like they have backed away from an agreement that covered irreversible, complete, and verifiable denuclearization.
Hedging Our Bets
Other officials acknowledge that talks with North Korea are still tenuous. Many suspect Kim Jong Un of buying time while he continues to develop weapons in secret. It's possible that he will eventually accept a denuclearization deal to gain American concessions while keeping a stock of weapons to use later.
Others don't want to push the North Korean too far too quickly for fear that he will back out of any deal. They want to leave room for compromise to ensure that negotiations are a success.