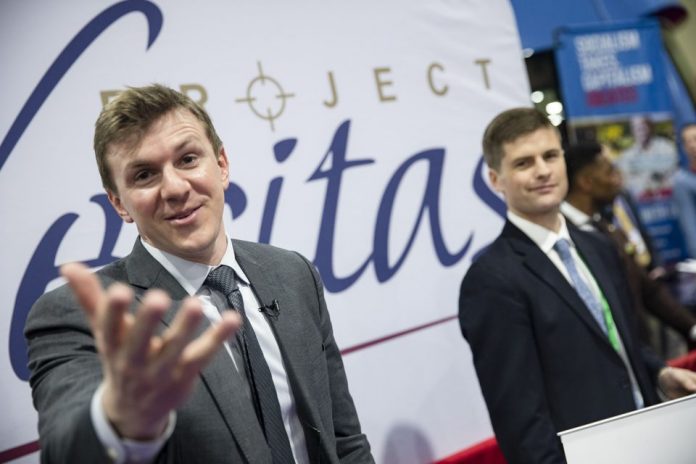 The New York State Supreme Court refused to dismiss Project Veritas' defamation lawsuit against the New York Times.  
Veritas is suing the newspaper over "biased" reporting. The story in-question was an exposé of alleged ballot-harvesting in Democrat Representative Ilhan Omar's 5th District of Minnesota.
The September report by Project Veritas used hidden cameras in an undercover sting operation to capture evidence. They posted a 16-minute video of a man bragging his car was full of hundreds of absentee ballots. He harvested the ballots for Minneapolis City Council Member Jamal Osman. The video was from July 2020. Osman won his seat in a special election in August. 
Project Veritas Claims Media Bias
In October 2020, Project Veritas brought suit against the New York Times and two reporters Maggie Astor and Tiffany Hsu. In five articles throughout September and October, the reporters lambasted Project Veritas over their investigation. The pieces even suggested Project Veritas paid sources to lie about ballot harvesting allegedly taking place among Somali-American candidates.
The NYT reporters claimed Veritas's investigation was "deceptive," "false" and "without verifiable evidence". Project Veritas responded back accusing NYT of publishing "false and defamatory statements impugning Veritas' journalism".  Additionally, they claimed the New York Times wrote 'hit' pieces driven by political bias.
In the filed lawsuit Veritas argued the case. "To accomplish its goal of discrediting Project Veritas' investigative report, ironically, The Times conspired with a left-leaning group of academics and college students to near-simultaneously have the group publish a blog post claiming the Project Veritas investigation was a coordinated disinformation campaign, followed only an hour later by a New York Times story hyping the blog post."
NY Supreme Court Rules Against New York Times
On Thursday, New York Supreme Court Justice Charles D. Wood denied the Times's request for dismissal of the lawsuit, plus attorneys' fees. The ruling "entitles [the plaintiff] to try and establish whether NYT's writers were purposely and/or recklessly inaccurate."
"The facts submitted could indicate more than standard, garden variety media bias and support a plausible inference of actual malice."  The ruling continued, "There is a substantial basis in law to proceed to permit the plaintiff to conduct discovery. Then, attempt to meet its higher standard of proving liability through clear, convincing evidence of actual malice."
The newspaper labeled the investigation as "deceptive," "false" and "without verifiable evidence." This prompted Veritas to accuse NYT of publishing "false and defamatory statements impugning Veritas' journalism" driven by resentment and political bias.
This decision by the New York Supreme Court allows Project Veritas to get depositions of the two NYT writers and other NYT employees. Veritas founder James O'Keefe promises to record and "expose" the depositions.
In its motion, the New York Times defended its coverage as accurate. The argument made by the NYT was "actual malice could not be proven". The Times emphasized Veritas is "libel-proof," meaning its reputation is already irreparably tarnished. The judge disagreed.
"Defendants failed to demonstrate Veritas is a 'classic libel-proof plaintiff', whose reputation is so bad it simply cannot be defamed," the ruling stated. "That other media sources have criticized Veritas, or that Veritas may have suffered blows to its reputation, without more, fails to meet the standard."
What is Project Veritas?
Project Veritas is a 501(c)(3) nonprofit organization. They are known as undercover investigators using guerrilla reporting. The group focus' mostly on politicians or private institutions perceived as corrupt. The organization is led by founder and President James O'Keefe, III.
Last week, Project Veritas came out with another undercover report. This time they were secretly recording Facebook executives saying the tech giant is "too powerful." Soon after, Twitter permanently banned the video journalism company without explanation.