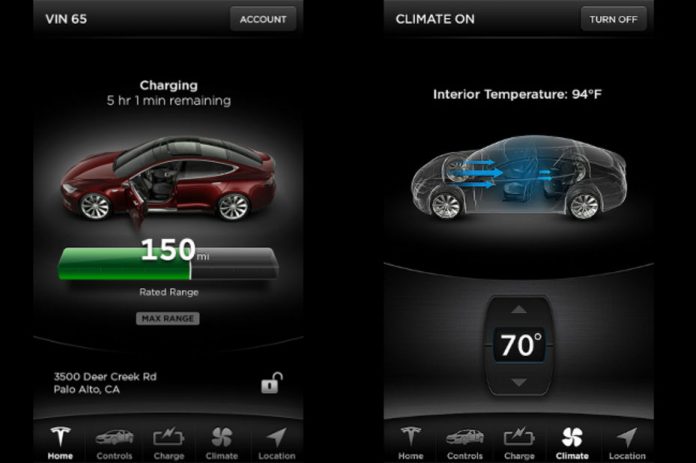 Telsa has definitely built the 2021 model for speed. Tesla apps provide owners with security, comfort, and sleek performance. Elon Musk even boasted they are "the most aerodynamic production car on Earth." These all-electric cars also have some unique and helpful security and climate features.
Tesla has focused on innovation to help customers with their day-to-day activities without skimping on design or performance. 
Tesla Apps Allow Owners to Manage Cars Remotely  
Sentry Mode can be accessed via your mobile phone for vehicle security monitoring. When the car is in Sentry Mode, it has continuous side and front cameras in operation. The cameras automatically defrost to enable clear vision. This is a great way to spot thieves and vandals approaching the car. Additionally, an owner can share footage with the police if needed.
Tesla introduced the "Dog Mode" feature in 2019. Through the mobile app (iOS or Android) Tesla owners can set the car's interior temperature so it's not-too-cold or too-hot for pets left in the vehicle. "Camp Mode" also remotely sets the temperature in the vehicle.
The recent icy weather has proven how useful Tesla's Mobile Apps are in winter climates. With a push of a button, you can melt the ice on the exterior of your electric vehicle.  And it only takes a few minutes. 
There's a video from a Canadian Tesla owner who warmed his Tesla Model 3 in five minutes. The temperature outside was -34 °C (-29.2 °F). Using the "Pre-Heating" function the ice on the windshield, glass roof and all windows, melted.
Tesla and Tesla Apps is a Disrupter
Tesla's headquarters is in Silicon Valley. And they work hard to provide state-of-the-art software tech features. Some of the innovations haven't been in cars before.  Through(OTA) software updates, the features get improved and upgraded often. 
Most legacy car companies don't even come close to Tesla's tech prowess. This is just one reason Tesla's stock has been consistently going up. 
Although Tesla's stock price has recently dropped some from its all-time high, the company is sound. Ford is giving new challenges to Tesla in the electric vehicle (EV) sector, but overall there's not much competition.
There is truth to the idea "Tesla is more than just a car company." Although it has introduced amazing vehicles, new kinds of batteries, solar panels, and apps, Tesla is really about disruptive ideas. CEO Elon Musk and his busy team of engineers are working on brand new ways to reduce costs while creating a constant stream of new-tech perks for their customers.