Elon Musk, CEO of Tesla (NASDAQ: TSLA) responded to Senator Bernie Sanders who criticized his wealth. Musk argued his fortune will be used to better serve humankind. In a response to an article published by Clean Technica, Musk said he wants to make life "multi-planetary." 
"I am accumulating resources to help make life multi-planetary & extend the light of consciousness to the stars," Musk said on Twitter.
Elon has jumped to the richest person in the world last month, surpassing Jeff Bezos CEO of Amazon (NASDAQ: AMZN). However, Elon went back to second place following the dip in technology stocks in March. Liberals have asked for higher taxes on billionaires including Musk and Bezos. The argument is the amount they are paying as taxes is not fair, despite the services they provide.
"We are in a moment in American history where two guys — Elon Musk and Jeff Bezos — own more wealth than the bottom 40% of people in this country," Senator Bernie Sanders said on Twitter on Thursday.
The Vermont senator added: "That level of greed and inequality is not only immoral. It is unsustainable."
Surprisingly, Sanders had no comments regarding Bill Gates who held the position of the richest man in the world for 16 of the last 21 years. Gates was considered one the of richest men in the world prior to the 2000's as well. Gates is currently topping out at over $126 Billion. His long reign as the world's richest man, throughout Sander's tenure in congress seems to never have been mentioned as greed or an immoral concern.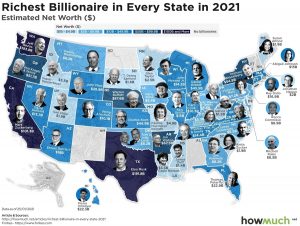 Musk and Bezos are worth a combined $350 billion
According to Bloomberg Billionaire Index, Musk, "Technoking" of Tesla is worth a thrilling $170 billion, while Bezos is ahead of him with $181 billion. Elon, of the rocket company SpaceX, said last year that he is planning to send humans to Mars by 2050.
He said that would add "a lot of jobs" on the Red Planet. SpaceX disclosed that the CEO is "highly confident" that the rocket company's starship will land on Mars by 2026, however, experts are skeptical about that.
Bezos and Elon are currently the two richest persons in the world. They have held this title for almost a year now following the Covid-19 pandemic impact on the economy. Ironically, when the world's economy was plunging, the two businessmen were accumulating billions of dollars. Elon jumped ahead of Bezos as the wealthiest person in the world in January 2021.
"How strange," was all Elon said at the time. 
Sanders questioned Bezos' wealth in a tweet last week. Few days later, Sanders raised other questions about Musk and Bezos in a Senate Budget Committee on Wednesday morning.  
"Bezos and Musk now own more wealth than the bottom 40%. Meanwhile, we're looking at more hunger in America than at any time in decades," Sanders said in his opening remarks