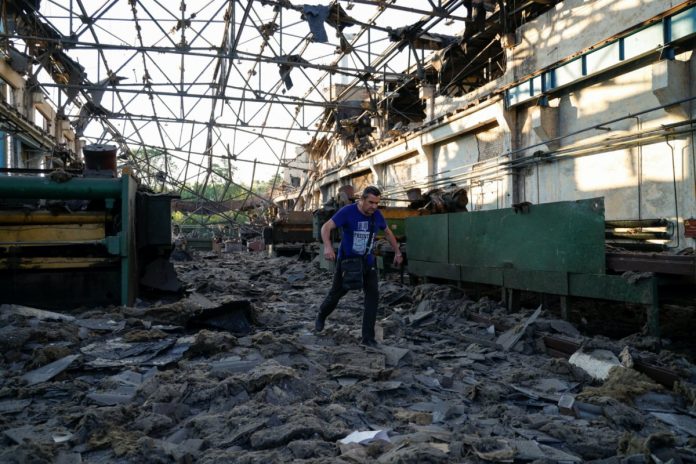 After 5-weeks Russian directed strikes hit on the outskirts of Kyiv. President Vladimir Putin claims that Russia hit longer-range missiles, due to be deployed on the battlefield.
Putin claims attack on tanks
 On Sunday the Russian state Tass news claimed Russia destroyed armored vehicles and tanks donated to Ukraine by European countries.
Putin warns that Moscow will "strike new targets" if the West supplies long-range missiles to Ukraine. And he said that any arms deliveries to Kyiv were aimed at "prolonging the conflict". 
A video of the attack on the Darnitsa car repair plant in #Kyiv. pic.twitter.com/lbu4QlVA5k

— NEXTA (@nexta_tv) June 5, 2022
If Kyiv is supplied with long-range missiles, "we will draw the appropriate conclusions and use our arms…. to strike targets we haven't hit before," Putin was quoted by Russian news agencies as saying, without specifying which targets he meant.
Putin claims personally that the targets are western-supplied tanks. And issued a warning that more targets will be hit if weapons deliveries continue.
The Russian missiles struck in the Kyiv suburbs of Darnytskyi and Dniprovskyi at 6am on Sunday morning. Ukraine reports one person was wounded.  
Ukraine says Russia attacked train cars
Kyiv mayor, Vitali Volodymyrovych Klitschko says that the Russian Tu-95 strategic bombers were launched from the Caspian Sea. And it was an attack that targeted railway infrastructure, not military targets.
The target of the Russian missile attacked in Kyiv this morning was a facility that works on railway cars to transport grain. Officials let us in to have a look. The place is gutted pic.twitter.com/uqeppwbLjn

— Simon Shuster (@shustry) June 5, 2022
The mayor claims that a grain car production facility was heavily damaged. And the train cars used to transport grains would not be able to after the attack.
Ukrainian police shared video of the aftermath of Russian shelling in Lysychansk, in the Luhansk region. The images show damage to administrative buildings, apartments and roads.
Police add that the headquarters for a humanitarian aid distribution center was hit by Russian missiles. It was burned to the ground. And said that more than 40 people had been living permanently in the destroyed building. No information on casualties has been provided.