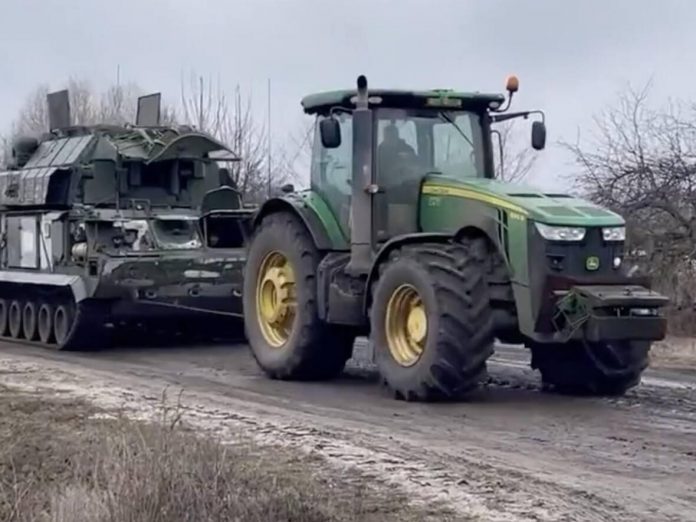 According to Newsweek, military experts and former commanders have said that Russia's army is running out of resources. And Putin is running low on fuel, missiles, bullets, and other supplies. Heavy losses in armored vehicles make the crisis even worse.
Open-source intelligence estimates suggest that Russia has lost 2,000 tanks and armored vehicles during the conflict. The T-72 battle tanks are the most used vehicles of the Russian army. And hundreds have been destroyed or abandoned in Mariupol alone.
Video of Ukrainian farmers towing away tanks that have run out of fuel or been abandoned by Russian troops is appearing on social media.
 Launching systems for the T-72 tank missiles are exclusively manufactured in the eastern Ukrainian city of Izyum. And so far, Russian forces have not been able to capture the city.
Russia will also have problems restocking Kh-55 cruise missiles. These missiles are air-to-ground. The Kh-55 engine is manufactured in Kharkiv, Ukraine. Another city that has been fighting off the Russian invaders.
During the bombing of Ukraine, the Russians have accidentally hit and destroyed the factories that were once building the military essentials that Vladimir Putin needs.
Working tanks, missiles, and fighter jets are essential in any war. And the parts and components needed to repair them are made in Ukraine. All Russian helicopter engines, ships and cruise missiles. Many ground-to-air missile and tank components are also manufactured in Ukrainian factories.
Russia is also having a restocking crisis. Some essential supplies were lost in the strategic bombing of the port of Berdyansk. Ukraine also made a precision strike with a Tochka-U missile on Russia. The hit destroyed an ammunition warehouse in the village of Oktyabrskoe, near the town of Belgorod.  Russia had stores of artillery supplies at the facility.
Is Russia changing plans because Putin is running low on resources?
This week, in the middle of peace talks Russia's deputy defense minister said the country was moving into "phase two."  He claims that Russian forces will be pulled back from Kyiv. And then be directed towards the Donbas region in the east.
Military experts claim that Russian forces continue their bombardment of Mariupol because they need the city for supply chain. Mariupol, on the southern coast of the Sea of Azov, could be vital as a landing point for Putin to supply his armies in the Donbas and Crimea.
Putin is also running low due to Western sanctions. He is unable to replace the French made arms and equipment. France has been a supplier of hundreds of millions of pounds worth of equipment since the 2014 invasion of Crimea.
Volodymyr Zelensky, the President of Ukraine, has asked Western nations to continue to supply his forces with "lethal aid." He is asking for arms, missiles and even planes to even level the battlefield.
On Thursday there was a "donor conference." And 35 countries committed to give more arms to Ukraine.
So far, the UK has supplied 4,000 next-generation anti-tank weapons (NLAWs). They also sent Javelin anti-tank systems. And are pledging to send Starstreak air defense systems and 6,000 new anti-tank and high explosive missiles.
Britain and the US have also sent Ukraine body armor, helmets, boots, ration packs and communications equipment.
What Russia intended to be a quick seizure of key Ukrainian cities is turning out to be a drawn-out war with serious supply chain issues.