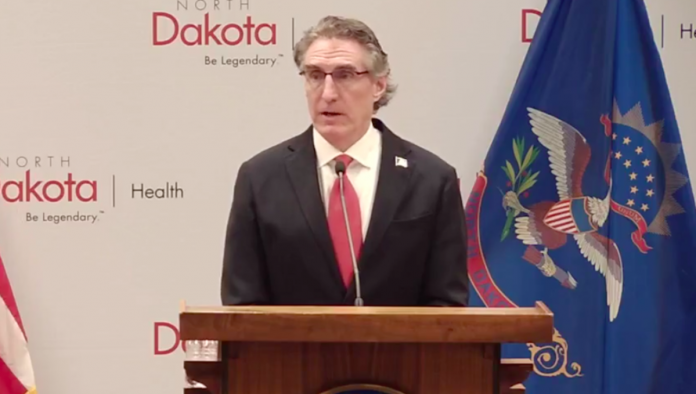 As states throughout the United States have steadily moved ahead in the past handful of weeks with resuming operations, demonstrators who are part of a tiny but seemingly expanding campaign have persisted in driving for it to speed up. And a solitary, rather-noticeable development has become viewed as a political statement: donning a mask, according to The Washington Post.
A journalist at a Minnesota news agency was even badgered this week for donning a mask while reporting on one of the demonstrations.
However, over the border in North Dakota, Republican Gov. Doug Burgum pled for the ending of such behavior.
Burgum offered that the dispute over masks was being unnecessarily politicized and that those who are resisting health experts' direction ought to reconsider their stance.
"I would really love to see in North Dakota that we could just skip this thing that other parts of the nation are going through where they're trading a divide — either it's ideological or political or something — around masks versus no mask," Burgum stated. "This is a, I would say, senseless dividing line, and I would ask people to try to dial up your empathy and your understanding."
The implicit meaning of the comments was certain: This is an unnecessary culture war.
Burgum continued, getting teary.
"If someone is wearing a mask, they're not doing it to represent what political party they're in or what candidates they support," Burgum stated, in advance of his voice starting to give out. "They might be doing it because they've got a 5-year-old child who's been going through cancer treatments. They might have vulnerable adults in their life who currently have COVID, and they're fighting."
Burgum finished his thinking: "I would just love to see our state, as part of being North Dakota Smart, also be North Dakota Kind, North Dakota Empathetic."
To avoid any uncertainty, the amount of people demonstrating the mask-wearing is tiny. Incidents such as the one in Minnesota are an anomaly, not the norm. However, there are innumerable folks are coming back into their communities and, as they do that, saying no to wearing a mask, despite the Centers for Disease Control and Prevention advising it.
A Republican governor on Friday appeared to anticipate a culture war — one where refusing to wear masks is viewed as some type of statement, even as it may make things more challenging in bringing about the speed of resuming operations that demonstrators seek.
Source: The Washington Post