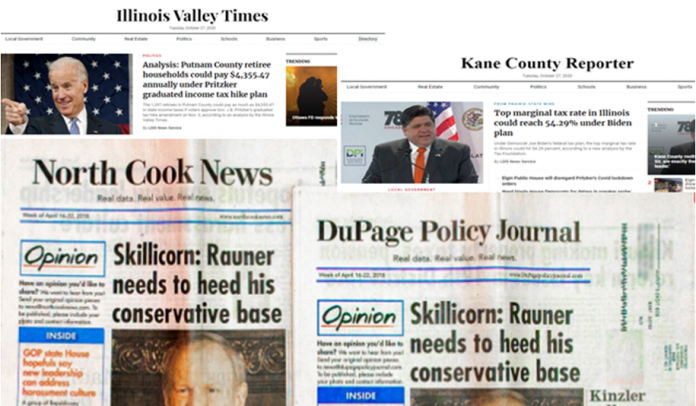 Republican operatives and public relations (PR) firms are running a pay-for-play network of 1,300 local news websites trying to fill the void of vanishing local newspapers, the New York Times reported.
The network, which has local news sites in all 50 states, "is built not on traditional journalism but on propaganda ordered up by dozens of conservative think tanks, political operatives, corporate executives, and public relations professionals," the Times said.
Brian Timpone reportedly running the pay-for-play network
Mostly running the operation is Brian Timpone, a TV reporter turned internet entrepreneur who has sought to capitalize on the decline of local news organizations for nearly two decades, The Times reported.
The Times said it uncovered details about the operation through interviews with more than 30 current and former employees and clients, as well as thousands of internal emails between reporters and editors spanning several years.
"The network is one of a proliferation of partisan local news sites funded by political groups associated with both parties," The Times said. "But those operations run just several sites each, while Mr. Timpone's network has more than twice as many sites as the nation's largest newspaper chain, Gannett."
The network grew from 300 sites to nearly 1,300 from June to October in 2019
As local newspapers continue to fold up nationwide, the report found that the network's operation saw a spike from only about 300 sites to 1,300 from June through October last year.
It said the operation is rooted in deception and lacks fairness and transparency, which are basic tenets of journalism. Traditional news outlets, the report adds, do not accept payment for stories.
Times said the network contracts with freelancers in the country and abroad, paying a meager $3 to $36 per job, which typically come with instructions on who to interview and what to write. "In some cases, those instructions are written by the network's clients, who are sometimes the subjects of the articles."
Ian Prior, a Republican operative that previously worked for the Senate Leadership Fund, a political action committee that seeks to maintain a Republican majority in the Senate, was identified in the report–the one behind a number of articles about U.S. Senate candidates.
Mr. Prior is leading a public relations firm that "markets its ability to get coverage in local news outlets," the Times was told in an e-mail. Prior reportedly pitches stories to a variety of outlets, including Timpone's network because it "actually covers local issues."
—————————————-
Have a story you want USA Herald to cover? Submit a tip here and if we think it's newsworthy, we'll follow up on it.
Want to contribute a story? We also accept article submissions – check out our writer's guidelines here.