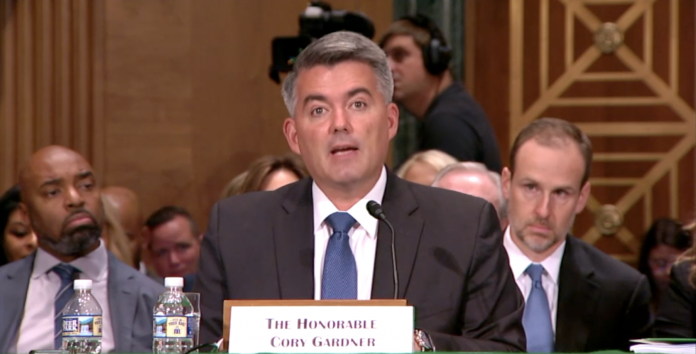 Sen. Cory Gardner (R-Colo.) stated that he'll keep the Senate from recessing for Memorial Day break next week to demonstrate opposite a lack of action on another COVID-19 assistance bill, Roll Call reported.
"This is no time to go home," Gardner said. "I'm going to do everything I can to make sure we get this job done."
That includes disagreeing with a unanimous consent agreement to take for recess from Senate operations after the body casted lots Thursday, Gardner said.
But even if Gardner pushes back, Senate Majority Leader Mitch McConnell (R-Ky.) has power over the floor schedule. Any such challenge might not spark anything besides compelling very few senators and staff to stay at the Capitol next week, not carrying out much bill work.
Regardless, such dissent in the Republican Party isn't common. It reveals the suffering from constituents that senators are receiving. The Colorado legislature will be working next week, while the Senate is planned to be closed, considering how to deal with a $3.3 billion deficit, as an example.
Gardner is believed to be one of the Republicans most likely to lose in November, as he will probably go against well-known ex-Democratic Gov. John Hickenlooper at that time. He issued a flurry of tweets earlier Thursday saying that the Senate shouldn't go on recess.
"Anyone who thinks now is the time to go on recess hasn't been listening. Coloradans and Americans alike have sacrificed and are hurting," tweeted Gardner, who mentioned many items he stated were crucial to take action on. Those include $500 billion in more local and state government assistance to pulling back rules on banks that seek to collaborate with medical marijuana enterprises.
Inside Elections with Nathan L. Gonzales shifted Gardner's campaign grade to Tilt Democratic in April, making Gardner's the only Republican seat presently estimated to go to the other party in November.
Assistance deliberations on 'pause'
Gardner's chamber has been in D.C. for almost three weeks, handling appointments and advancing bills to re-permit powers in the expired Foreign Intelligence Surveillance Act.
Over that time, Senate committees did hearings on many features of the coronavirus pandemic, but leaders chose not to start discussions with Democrats on a new assistance bill to deal with the continuous, critical health care and economic situations.
McConnell has stated more than once that he seeks to "pause" to evaluate the efficacy of prior aid laws, which the Congressional Budget Office believed will put $2.8 trillion this year and next into the U.S. economy.
"We still believe with regard to the coronavirus, we need to assess what we've already done, take a look at what worked and what didn't, and we'll discuss the way forward in the next couple weeks," McConnell stated.
Source: Roll Call