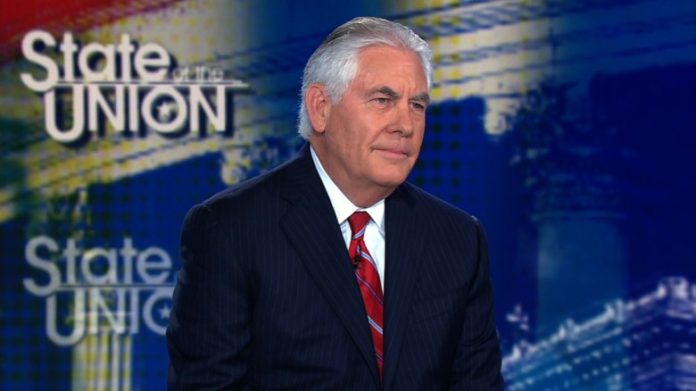 These days the U.S. State Department, the nexus of American foreign policy, appears increasingly isolated and unable to do its job. Secretary Rex Tillerson's relationship with President Trump isn't fairing much better, either.
Twitter Diplomacy
Rex Tillerson has been frequently and publicly superseded by the White House since taking the job. President Trump has shown no signs of easing up on his Twitter use, and will not shy away from straying into foreign affairs with it. Regarding North Korea's looming nuclear threat, Trump undercut Tillerson by tweeting that he "wasting his time trying to negotiate with Little Rocket Man." "Save your energy Rex," Trump recommended.
According to a CNN Trump administration source, Tillerson's days are numbered. "I would say the ice continues to thin," CNN reports. "The question is when does it actually break."
"Moron"
The public discord between Trump and Tillerson came to a head last week. Numerous outlets reported that the Secretary called Trump a "moron." The insulting remark came on the heals of a July 20th meeting at the Pentagon between top national security and administration officials.
Roots of the Conflict
The New York Times Magazine recently published an expose that highlights the origins of the rift between the two men. Tillerson spoke to the Times himself, citing personality differences among the reasons they don't see eye-to-eye.
"I'm an engineer by training. I'm a very systems, process, methodical decision maker. He's an entrepreneur. Different mind-set. He makes decisions differently."
The White House has also allowed staffing at the State Department to move at a snail's pace. This is because Trump values loyalty over competence, according to officials quoted by the Times. Prospective appointees were vetted closely, down to their Twitter likes, for their loyalty to the President. These close standards disqualified many prospects.
Why Stay?
The Trump administration has had quite a bit of turn over since January. It's possible Trump "can't" fire Tillerson, for political face. The President has had to replace his chief of staff in the first year. This is unthinkable for most administrations. Losing a the Secretary of State may be too much to bare at this time.
The Times also postulates that Tillerson is trying to stay for a year due to tax reasons. In order to head the State Department, Tillerson had to divest himself from Exon Mobile, where he was CEO. If he leaves the government shy of a year, he may be subject to heavy capital-gains taxes from his former stocks by returning to the private sector. In short, he would lose out on a lot of money.