U.S. Rep. Ron DeSantis, a member of the conservative House Freedom Caucus, will be officially announcing his bid for Florida Governor on Friday. This comes on the heels of an endorsement for the run from none-other than President Donald Trump himself.
Just before Christmas, DeSantis got the best holiday present from the President when he tweeted out his support for DeSantis to 41 million followers.
"Congressman Ron DeSantis is a brilliant young leader, Yale and Harvard Law, who would make a GREAT Governor of Florida," Trump tweeted. "He loves our Country and is a true FIGHTER."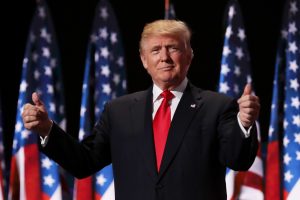 In the weeks before and since Trump's endorsement, the congressman has been hard at work setting up PACs and tapping into his fresh statewide network. Now, he is seizing the opportunity to jump into the spotlight.
"I'm excited about taking this first step towards a campaign for governor," DeSantis told POLITICO. "As a former prosecutor, Iraq veteran and conservative leader who's endorsed by President Trump, I've got the experience needed to win this race and build on Gov. [Rick] Scott's strong legacy."
DeSantis has also been very busy in Congress. He's built an untouchable conservative record, receiving a 100% conservative lifetime rating from the American Conservative Union for all his years in office. DeSantis has also been a firebrand on the hill, advocating constantly for a review of Special Counsel Robert Mueller's investigation of Russian interference on the 2016 election and the opening of an investigation into Hillary Clinton's emails and other scandals.
DeSantis will not face an empty primary. Thus far, Florida Agriculture Commissioner Adam Putnam dominates the Republican field with over $15 million dollars raised and close to eight months of campaign-time.
In 2016, DeSantis ran for U.S. Senate to fill the seat expected to be vacated by Marco Rubio. Rubio had made plans to become a private citizen at the end of his term in 2017, but was pressured by his party to run again in order to both safely preserve his crucial seat from a powerful Democratic challenger, and drive out Republican voters to help the entire ballot. When Rubio jumped back into the race, DeSantis graciously withdrew.
With Trump's endorsement, DeSantis will have little trouble making himself into the "Make America Great Again" candidate of the Republican primary. This will help him especially with high-propensity voters who are likely to vote in a primary, since the vast majority of them support the President according to 2016 polling data.
Another potential candidate for the Republican gubernatorial nomination is Florida House Speaker Richard Corcoran, who is also a strong conservative. With DeSantis's entrance into the race, it's less likely that the Speaker will jump in, especially since he won't be able to raise money during legislative session beginning next week.