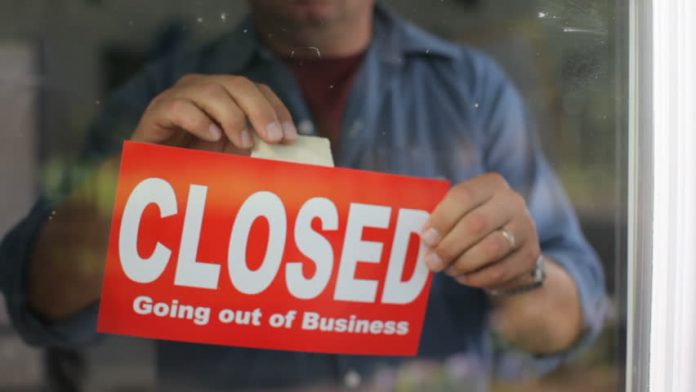 For years Reputation.com has been the leader in the online reputation management industry.
Having raised over $87M from marquee venture capitalists such as Bessemer Venture Partners, August Capital, and Ascension Ventures, many have expected big things from Reputation.com.
A quick search of the company pulls up this review on Glassdoor, where a current employee claims that Reputation.com's new CEO, Shrey Bhatia, and the head of HR, have left the company and claims that "The ship is about to sink":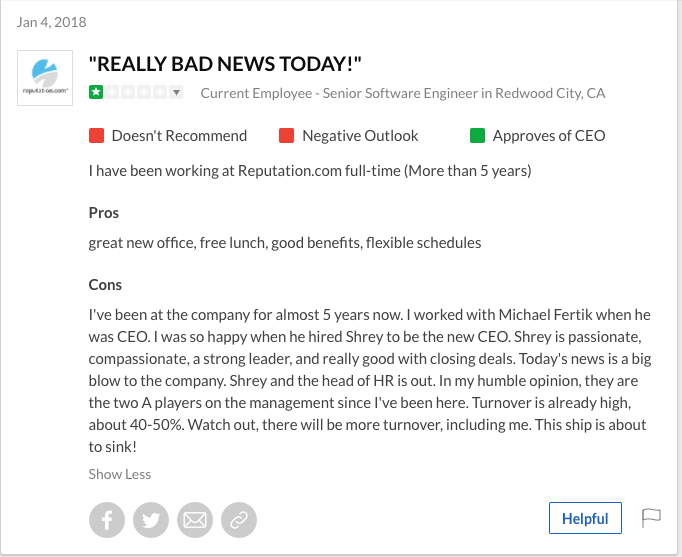 A look at the industry
Taking a look at the reputation management industry, to date there has yet to be a successful exit:
Reputation.com – reportedly is going out of business.  UPDATE 1-26-18:  according to Reputation.com, the company is growing faster than ever before and the reviews online are not representative of the company's success.   However, Reputation.com did confirm that their CEO has left the company.
Brand.com – went out of business.
BrandYourself – has raised much less capital than Reputation.com, however no sign of an exit.
All the rest have received negative publicity in some form or are still in business chugging along with no notable signs of a sale come.
I personally think that there are a number of challenges with the online reputation management industry as a whole.
For starters, reputation management is nothing more than an SEO related service that involves some level of PR related activities.  While this is a growing industry, the reality is that agency style services, even when powered by technology, typically sell for 1x revenue max.
Given the fact that reputation management is in large part dependent on how Google's algorithms rank the content from these agencies, all it takes is 1 algorithmic update from Google and these services are rendered ineffective to a large extent.
Final thoughts on Reputation.com
While it's possible that the review on Glassdoor is a fake, it is reasonable to believe that given the challenges in the online reputation management industry these days that Reputation.com could fail.   When a company receives over $87M in funding, it needs to sell for more than that to return a profit to its investors.
Venture capitalists don't look for returns of 1x, rather they look for the 15-20x returns from the likes of Facebook, Twitter, and other leading tech giants.
At the end of the day, no matter what technology service offerings Reputation.com deploys, the core service offered for reputation management is SEO related content.   And SEO related content businesses are, at the end of the day, typically do not exit for high multiples.
In order to avoid the disasterous publicity of a bankruptcy, my prediction is that Reputation.com will turn into a zombie VC backed company that generates nominal profits and/or sell part of its technology for substantially less than what its investors are looking for.  The reports of 40%+ turnover rates along with the revolving door of management are typical signs of a failing tech company.