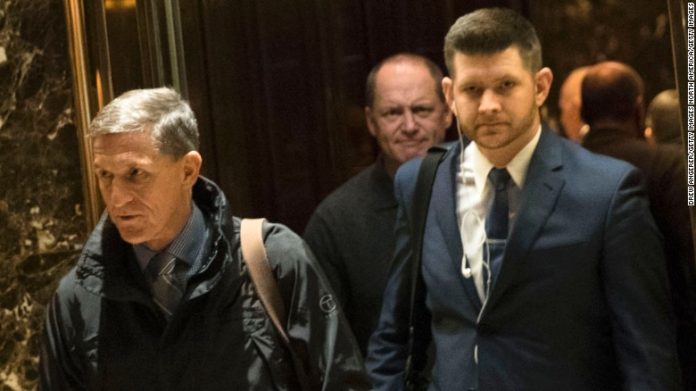 Michael Flynn is back under the spotlight. A series of stories have broken over the past news cycle regarding more undisclosed foreign contacts and the role his son, Michael Flynn Jr., may have played in possible Russian collusion.
Reports published this morning say that Flynn Jr. is now a subject of the federal Russia probe helmed by Special Counsel Robert Mueller. NBC News is citing four current and former officials with knowledge of the matter. Flynn Jr. is known to have worked with his father's foreign lobbying firm, Flynn Intel Group. According to NBC, Flynn Jr. was heavily involved in the daily operations of his father's firm. This included attending meetings and courting clients.
Flynn Jr. gained attention on social media during the 2016 campaign for promoting the Pizza-gate conspiracy theory on Twitter.
Identifying Flynn Jr. as a subject is a classic investigatory move by Mueller. The publicity is intended to increase pressure and compel those subjects and others to come forward and cooperate.
Michael Flynn Sr. is already facing intense legal scrutiny. It is well documented that Flynn Sr. failed to disclose numerous foreign contacts. It was revealed last spring that he served as a foreign agent for a Turkish business. In another instance he gave a paid speech in Moscow for the Russian news outlet, Russia Today. Flynn Jr. accompanied his father on that trip.
The House Democrat's Letter
And today, House Democrats have released a letter sent to Flynn's legal team and business associates detailing yet another undisclosed foreign contact. According to the letter, Flynn traveled to Egypt in 2015 to promote a U.S.-Russian business deal involving nuclear reactor construction in the Middle East. "It appears that General Flynn violated federal law by omitting this trip and these foreign contacts from his security clearance renewal application in 2016 and concealing them from security clearance investigators who interviewed him," the letter reads.
The letter was signed by the ranking members of the Committees on House Foreign Affairs and House Oversight, Eliot Engel (D-NY) and Elijah Cummings (D-MD), respectively. They also notified Flynn's lawyer and associates that they have sent their conclusions to Robert Mueller.
If the allegations prove true, they raise the possibility that Flynn was promoting foreign business interests while he was either involved in Trump's campaign and transition, or serving as his National Security Advisor.
It's unclear when the inquiry into Flynn Jr.'s role in father's firm got Mueller's attention. Regardless, it appears to be calculated move on his part to rattle the Trump administration and its associates.