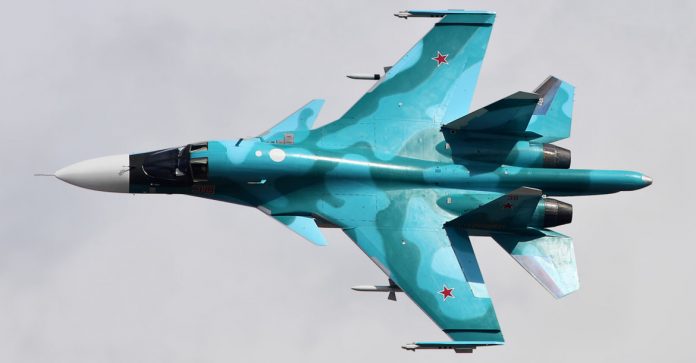 A $36 million Russian Su-34 bomber was reported to be shot down by its own forces. A friendly fire accident took place over the Luhansk region in Ukraine on Monday.
The fighter jet went down near Alchevsk, in an occupied area. Alchevsk is currently under the occupation of Moscow and separatist forces.
Russian Su-34 fighter jet
Images of the still smoking plane were shared by the Strategic Command of the Armed Forces of Ukraine. In the video, the Russian cameraman talks about a Ukrainian plane being shot down. But all the physical inscriptions identify the Su-34 as belonging to Russia's Air Force.
According to the Ukrainian news outlet Glavred, the video of the downed Su-34 aircraft was first posted on local outlets by Russians believing that a Ukrainian plane had been shot down. After it was determined that a Russian bomber was downed the video was deleted.
A Russian Telegram user named Ruslan wrote: "The jet is ours, unfortunately. Sometimes it happens. I heard the info from a friend, I thought bulls**t, but it was confirmed."
It has not been confirmed if this is one of the new Su-34Ms. The Ministry of Defense of the Russian Federation recently announced 4 upgraded Su-34s. with rear-hemisphere scanning, radar would be deployed in Eastern Ukraine.
According to the director-general of Russia's United Aircraft Corporation, Yuriy Slyusar, the Su-34M has more than double the air-to-ground capability of the original Su-34. The upgraded aircraft has three different kinds of sensors. This includes the UKR-RT capsule for enhanced surveillance, camera UKR-OE, and UKR-RL, which are all integrated with the aperture radar.
"Russian invaders from the air defense shot down their own plane, which was flying in the sky over Alchevsk," Ukrainian news outlet dialog.ua reports. They went on to claim the "friendly fire" incident could have taken place on Sunday.  And that during Ukraine's launch of targeted attacks on military depots Russia shot the wrong plane.