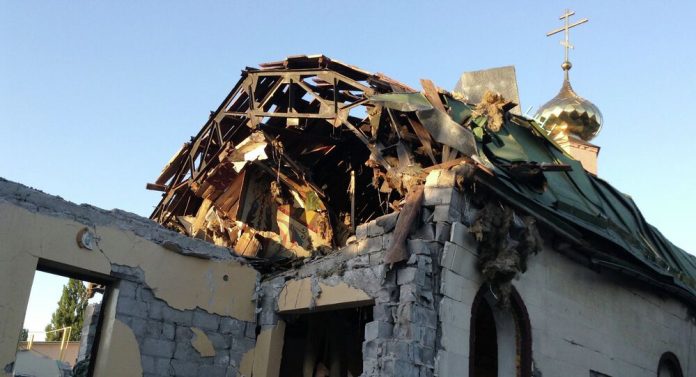 According to the Ukrayinska Pravda missile and bomb attacks by Russian forces continue on civilian facilities. That includes schools, libraries, churches, and hospitals. The intent is to destroy not only the Ukrainian people but also to commit cultural genocide. And Putin has directed his army to destroy the heritage and the history of Ukraine.
From the beginning of the invasion, Russia has been accused of widespread war crimes. There are international investigations underway. But it's not just unarmed civilians being murdered.  It's society and culture, as well.  
Ukraine filed claims that Russia is violating the Hague Convention for the Protection of Cultural Property in the Event of Armed Conflict. The Protection Act tries to prevent "any form of theft, pillage or misappropriation of, and any acts of vandalism directed against, cultural property". 
Widespread cultural genocide
The churches and other religious buildings in Ukraine are being intentionally targeted and damaged by Russian bombings.
 Shrines, mosques, and synagogues are reporting heavy damage.  Even orthodox churches organized by the Moscow Patriarchate are not safe from what looks like cultural genocide. 
Ancient churches and monasteries dating back to the 11th century are being bombed. This is a widespread problem in the Ukraine towns and cities where Russian occupation is in place. Many irreplaceable religious items are being looted or destroyed. And there is little doubt that it is intentional.
The communists in the early days of the Soviet Union used similar tactics. They tried to "wipe out" many historical sites.
 Kharkiv was the capital of Soviet Ukraine, filled with architectural and historic monuments created in the Soviet era. Even those religious and historical items that celebrate Russia are not safe.
Ukrainian libraries are also being hit by deadly bombs. Russian shelling of the Chernihiv Scientific Library, an architectural monument of the 20th century, has decimated the building. And the Chernihiv Youth Library, an architectural monument of the 19th century has been hit. Most of the books from the libraries remain under the rubble.
 In Kharkiv, Russian forces bombed the Slovo Building, a cultural center highlighting Ukrainian writers and poets of the Renaissance. Freedom Square in the center of Kharkiv was also damaged. 
 In an incredible irony Russia pretends to be fighting Nazis in Ukraine. But the Russian bombing targets not only Ukrainian but also Jewish memory sites. There have been bombings at Holocaust memorials in Kyiv's Babyn Yar and in Drobytsky Yar in Kharkiv, where 15,000 Jews were killed during WWII.
Russia is conducting war against Ukraine. And it is intended to destroy not only the Ukrainian people but also its cultural heritage. This is a familiar Russian strategy which dates back to both the Russian Empire and the Soviet Union. And it was also used the first time Russia attacked the Ukraine in 2014.