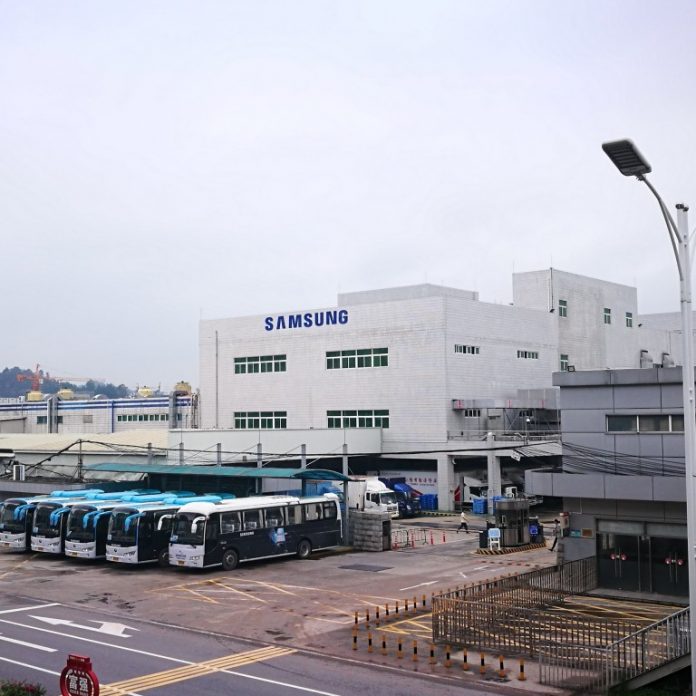 Samsung Electronics Co will halt operations in its last remaining computer factory in China. The announcement came on August 1 when the South Korean tech giant confirmed the continued shift of production from China, which is the second-biggest economy in the world.
In the wake of the coronavirus global supply chains are taking a hit and companies are rethinking their manufacturing plans. Chinese labor and production costs have also been rising as a result of the pandemic.
Samsung has notified employees at the Samsung Electronics Suzhou Computer factory that approximately half of the workers on the contract will be affected. The employees that are involved in research and development will remain, the China Post reported.
In 2012, at peak production the Samsung Electronics Suzhou Computer plant had 6,500 employees. Today there are 1,700 workers in the facility. Approximately 850 research and development employees will remain.
Although the company doesn't comment on factory revenue or exports, the Hong Kong newspaper reported that in 2012 the factory shipped 4.3 billion worth of products and in 2018 that had decreased to $1 billion.
"China remains an important market for Samsung and we will continue to provide superior products and services for Chinese consumers," Samsung's company statement said.
Samsung later officially confirmed that the plant would halt production and instead focus more on research and development, with the decision partially due to the "ongoing efforts to enhance efficiency across our global production bases." The company also confirmed that it would provide opportunities to affected employees to transfer to other Samsung facilities.
Samsung closed its last Chinese smartphone factory
Last year Samsung closed the doors on its last smartphone factory in China. It still maintains two semiconductor manufacturing sites in Suzhou and Xi'an. Huizhou Samsung Electronics began smartphone production in 2003 and ended in 2019.
In 2011, the Samsung complex in Huizhou was the South Korean company's largest Chinese factory. At the time it produced one in five smartphones sold in China. That was when Samsung still ranked No. 1 in China with 20% of the smartphone market.
By 2019, its market share dropped to just 1% in the face of stiff Chinese-based competition like smartphone makers, Huawei, Xiaomi, and Oppo.
The shift in production from China was a response to the market, as well as the higher costs of doing business in China. The labor costs were steadily rising, rental costs were higher, and increased taxes in China were the last straw for Samsung.
Samsung opened the world's largest mobile phone manufacturing facility on the outskirts of the Indian capital of New Delhi last year.
In October 2019 Samsung Electronics announced that although it closed its last Chinese smartphone factory, it would continue producing some smartphones in China. They started an outsourcing program for an Original Design Manufacturer (ODM). 
Samsung continues selling phones that are made in China in the Chinese market through ODM production. Smartphones will be designed and manufactured by an ODM company which will then rebrand them as Samsung. 
————————————————–
Have a story you want USA Herald to cover? Submit a tip here and if we think it's newsworthy, we'll follow up on it.
Want guaranteed coverage? We also offer contract journalism here.  Just be sure you're comfortable giving up editorial control, because our journalists are dogged and will follow the story through to it's conclusion. The story will be published to our exacting standards, without regard for your preferred slant.
Want to contribute a story? We also accept article submissions — check out our writer's guidelines here.