For their first presidential endorsement ever, Scientific American has announced that they are backing Joe Biden for President. 
"Scientific American has never endorsed a presidential candidate in our 175-year history—until now. The 2020 election is literally a matter of life and death. We urge you to vote for health, science, and Joe Biden for President," tweeted the magazine. 
The publication said they felt compelled to endorse Joe Biden because according to evidence, Donald Trump is bad for the environment and for science. They also noted that Trump does not take responsibility for his actions, making him a poor leader. The Editors at Scientific American attributed the 190,000 American, COVID-19 related deaths to Trump's dismissal of science and said his dismantling of science and health-driven policy groups is an endangerment to society. 
"He (Trump) has also attacked environmental protection, medical care, and the researchers and public science agencies that help this country prepare for its greatest challenges. That is why we urge you to vote for Joe Biden, who is offering fact-based plans to protect our health, our economy, and the environment," read the statement.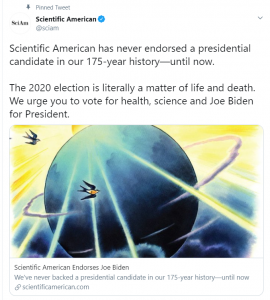 Scientific American says Trump was repeatedly warned for weeks about the disastrous attitude of COVID-19. Trump knew COVID-19 was not simply like the flu, lied about testing resources available to Americans, and refused funding to relief efforts. The publication also ripped on Trump and Pence's mask policy. 
"At every stage, Trump has rejected the unmistakable lesson that controlling the disease, not downplaying it, is the path to economic reopening and recovery," said the statement. 
The publication stated that Joe Biden, the former Vice-President, and longstanding politician, has better plans for America. 
Although the major publication has never made a White-House endorsement before, major names on the Editorial Board like Tayna Lewis, Associate Health and Medicine Editor, and Editor-in-Chief Laura Helmouth stayed quiet on Twitter, both retweeted the article with apolitical statements copied from the initial post. 
Scientific American is the oldest consistently posted magazine in the U.S and has 10 million readers.
—————————————-
Have a story you want USA Herald to cover? Submit a tip here and if we think it's newsworthy, we'll follow up on it.
Want to contribute a story? We also accept article submissions — check out our writer's guidelines here.