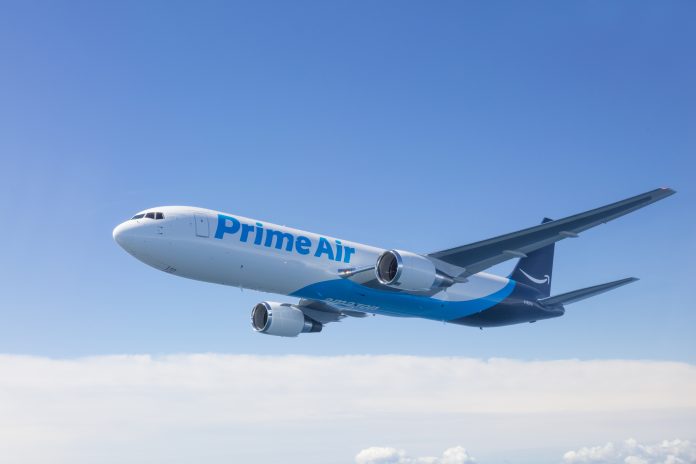 Amazon Air expanded its fleet with nine Boeing 737 planes between May and July 2020, a record expansion for the program, according to a new report by DePaul University's Chaddick Institute for Metropolitan Development.
The report stated, "Amazon Air͛'s addition of nine planes to its fleet between May and July 2020-the most it has added over a three-month span since its inception illustrates its continued commitment to growth. Three more planes subsequently took to the skies, bringing its present fleet to 54 planes, 29% more than at the start of May."
While the airline industry at large has been brought to its knees as a result of the COVID-19 pandemic, Amazon Air's cargo business model took off, pointing to increased demand in e-commerce shopping as retail lays dormant.
From April 23 to Aug. 20, daily flight activity at Amazon Air increased 27.1% with 133 flights on Aug. 25 alone. The early success of the Amazon Air program marks another sweeping victory for the e-commerce giant, which regularly champions its disruptive nature across multiple industries.
While Amazon Air is both good for the company and its customers, there is a loser in all of this. Mainly, major freight providers such as UPS, which continues to ship products for Amazon. That said, the company dumped FedEx in 2019 in order to cut costs and shift its focus to Amazon Air.
For UPS, the writing is certainly on the wall as Amazon Air continues to expand its fleet and daily flights. While it remains unknown as to when Amazon will dump UPS, it is safe to assume that it will happen at one point or another.
The report writes, "Over the course of the six days, we observed in August (which covered every day of the week except Sunday), Amazon Air appears to have grown roughly 28% to 30% since May (although our limited data from April does not allow us to conclude this with certainty)."
This is another pertinent example of Amazon's role as an innovator in the U.S. economy, forever changing the landscape with industry-wide implications. Will America's freight giants survive Amazon Air's ascendency?
If so, it will undoubtedly alter that way in which companies like UPS make their profits. Only time will tell.
———————————-
Have a story you want USA Herald to cover? Submit a tip here and if we think it's newsworthy, we'll follow up on it.
Want to contribute a story? We also accept article submissions — check out our writer's guidelines here.