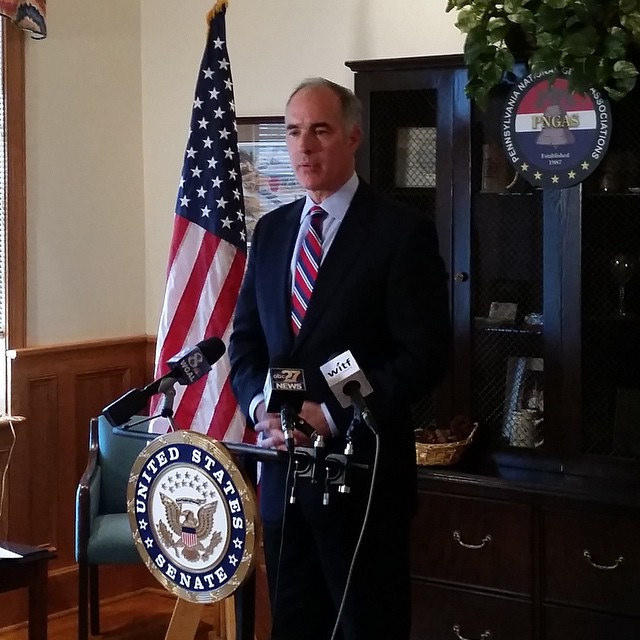 U.S. Senator Bob Casey of Pennsylvania wants to address food insecurity among children by expanding access to free school meals. More than 11 million children nationwide are currently experiencing hunger.
Last week, Sen. Casey introduced the School Hunger Elimination Act to improve the National School Lunch Program (NSLP) and the School Breakfast Program (SBP).  He believes that ensuring access to free school meals is essential to combating hunger among children.
The senator noted that children missing meals or experiencing hunger increases their risk of developing behavioral, mental and social disorders.
It is unacceptable that millions of children in the U.S. are experiencing hunger
In a statement, Sen. Casey said, "It is simply unacceptable that more than 11 million children across the country lack consistent access to enough food to sustain active and healthy lives. When students are hungry in the classroom their ability to concentrate decreases, academic performance declines and behavioral issues surge."
He added that his legislation authorizes significant steps to expand access to free school meals, which are vital to proving nutritious foods for children experiencing hunger.
The School Hunger Elimination Act will:
Directly certify all school-age children receiving Medicaid
Expand mandatory direct certification
Increase the community eligibility reimbursement multiplier from 1.6 to 1.8
Allow community eligibility school groupings across districts
Expand the timeline for retroactive reimbursements
Jim Weill, president, Food Research & Action Center (FRAC), commented, "The School Hunger Elimination Act will increase the number of high-need schools that are able to offer free breakfast and lunch to all students." He added that the bill will ensure that "children from low-income households are easily connected to free school meals."
Providing financial relief to children's caregivers
Sen. Casey also introduced the Caregivers Access and Responsible Expansion for Kids Act or the CARE for Kids Act. The legislation provides financial relief to the millions of caregivers (grandparents, relatives and others) who accepted the responsibility to take care of children—many of them were displaced due to the opioid epidemic.
"The CARE for Kids Act provides assurance that these children can maintain access to nutritious foods through school meal programs. This legislation also eases the financial burden for the selfless caregivers, often grandparents or other relatives, who have taken on the responsibility of caring for these children," said the senator.
Donna Butts, the Executive Director of Generations United said over 2.6 million children are under the care of their grandparents who unexpectedly stepped up and stretched their resources. She said these grandparents "need access to services and supports for the children in their care to thrive"
"Generations United applauds Senator Bob Casey for introducing The CARE for Kids Act which will  provide much needed access to school lunches and alleviate one worry grand families face," she added.