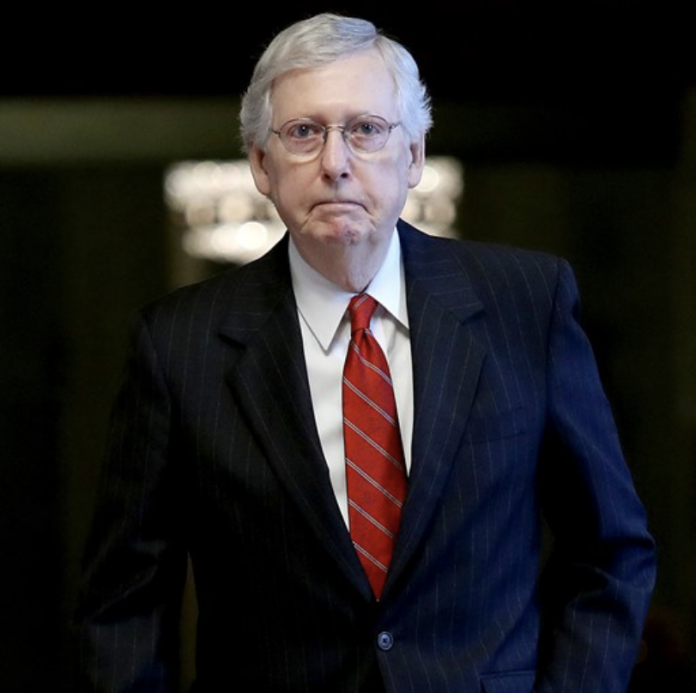 In recent weeks, congressional Democrats have decided that the impeachment of President Trump is imperative. They've made this call in spite of absent evidence and a lack of votes in both chambers of Congress. Unfortunately, as more and more attention is devoted to impeachment, less focus is placed towards matters of importance; this is something which House Minority Leader Kevin McCarthy has pointed out on multiple occasions.
It turns out that McCarthy isn't the only GOP leader who has a bone to pick with impeachment-happy Democrats. On Tuesday, Senate Majority Leader Mitch McConnell held the left's feet to the fire via Twitter.
A Closer Look at McConnell's Message to Democrats in Congress
The Senate Majority Leader firstly slammed Senate and House Democrats for failing to take action on important policies. The listed policies include military funding, trade agreements, and new jobs for Americans across the nation. McConnell lamented the reality that congressional Democrats prefer "fighting with the White House" rather than joining the GOP for bipartisan progress.
His exact words on the matter read as follows:
Meanwhile, House Democrats are blocking the USMCA while they pursue their three-year-old impeachment obsession. 176,000 new American jobs are being held up because this major new trade deal might interfere with House Democrats' political theater.

— Leader McConnell (@senatemajldr) November 5, 2019
Following the above tweets, the Senate Majority Leader then turned his attention to 2020 Democrats. As it currently stands, the vast majority of left-wing contenders favor far-left policies; some of the most controversial policies in question include ending private healthcare, redistributing debt, and enstating the Green New Deal.
After censuring 2020 Democrats, McConnell urged congressional Democrats to let go of "socialist daydreams" and behave as lawmakers.
We need our Democratic colleagues to put aside socialist daydreams and fulfill their basic governing responsibilities. Republicans are ready and waiting to fund our servicemembers. We are ready and waiting to pass the USMCA. We just need Democrats to show up.

— Leader McConnell (@senatemajldr) November 5, 2019
Will Congressional Democrats Listen to McConnell?
At this time, there is no sign indicating that Democrats plan to alter their behavior. Furthermore, seeing as Democrats and Republicans maintain very different views on what effective governing looks like, this complicates the potential for bipartisanship.
Throughout the impeachment inquiry, Democrats have insisted that removing President Trump from office is imperative. Earlier this year, freshman congresswoman Rashida Tlaib vowed to "impeach the motherf*cker."
Since the statements from McConnell, left-leaning Americans pushed back. Many individuals who lean to the side of the Democrats view the GOP as the party which is presently at fault. Moreover, Democrats are not pleased that the Republican-controlled Senate won't aid their quest to impeach President Trump.