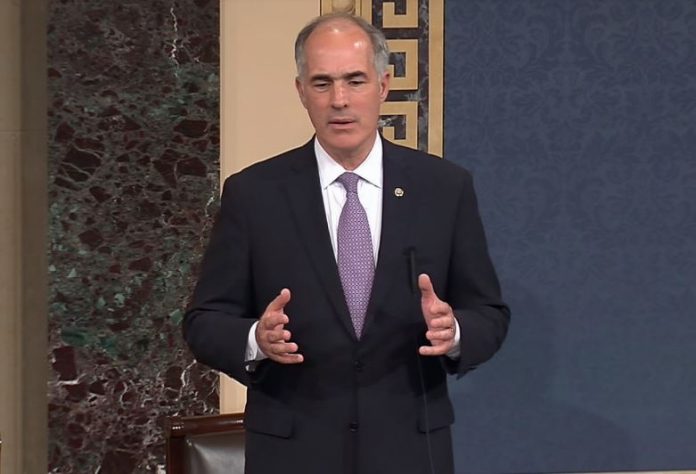 U.S. Senator Bob Casey of Pennsylvania criticized the White House for its plan to cut funding for the Children's Health Insurance Program (CHIP). He vowed to fight the "gooofy, extreme proposals" by White House Budget Director Mick Mulvaney.
On Monday, the White House Office of Management and Budget asked the Congress to cut $15.4 billion from the $1.3 billion omnimus spending bill. Almost 50%  ($7 billion) of the proposed spending cuts would come from CHIP. The Trump administration argued that $5 billion in funding for the program already expired and cannot be legally spent. Another $2 billion in contingency fund is unnecessary.
During a rountable discussion with families, child care professionals, and healthcare advocates, Sen. Casey said, "I just wish the administration, when they're going to claw back money for the budget, would look to other sources of revenue."
Additionally, he noted, "It's pretty hard to make that argument that they're making when they gave away the store to rich people and big corporations in the tax bill. We're going to be paying for that tax bill for a generation or more."
Furthermore, the Senator pointed out that during the first year of the Trump administration, it is "obsessed with two things—decimating Medicaid and giving rich people more money."
Voters could use the midterm election to protect CHIP 
Moreover, Sen. Casey said the upcoming midterm election is one way to protect CHIP, which provides insurance coverage to nearly nine million children. In Pennsylvania, more than 180,000 children have health insurance through the program.
"There's an election coming up, which is another way to register our disapproval. But, between now and then, we have to geth the word about it."
On Friday, Sen. Casey also tweeted that the Trump administration failed to fulfill its promises on child care.
Families across Pennsylvania struggle with the cost of health care and child care, forcing many parents to choose between going to work and paying for their children's care. pic.twitter.com/w916S3Pzfh

— Senator Bob Casey (@SenBobCasey) May 11, 2018