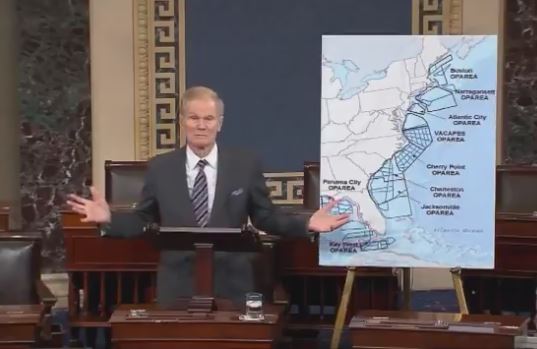 The Trump administration is preparing to unveil a new five-year plan to allow offshore drilling in the entire Atlantic Coast. The plan is expected to take effect as early as 2019, according to Senator Bill Nelson citing media reports.
On Tuesday, Sen. Nelson denounced the plan as a big Christmas present to the oil industry. However, it a huge threat to threat to Florida, so he is "doing everything to block it.
During his speech in the Senate floor, the Florida senator encouraged his colleagues to pass a bill to prevent oil drilling in the East Coast until 2022.
Sen. Nelson said, "You can't pull oil rigs off of Cape Canaveral," the home of military, NASA and commercial rockets and non-military, government payloads.
The Trump administration is about to unveil a new plan that will open up the entire Atlantic coast to offshore oil drilling. This would be a huge win for the oil industry; and a huge threat to Florida. I'm doing everything I can to block it. pic.twitter.com/CqDskvAjCs

— Bill Nelson (@SenBillNelson) December 12, 2017
Florida stakeholders strongly oppose drilling in the Atlantic Coast
Additionally, the senator emphasized that the Department of Defense, chamber of commerce, fishermen, and coastal communities all along the Atlantic strongly opposed the Trump administration's plan.
Last year, the Obama administration abandoned a similar plan in the Atlantic Coast because of the opposition. It also backed off its plan in Florida, which has more beaches than any other state," said Nelson.
According to him, "Florida is blessed with beautiful beaches that attract people. He pointed out that the state has a "significant tourism-driven economy. We'll we learned what happened when just a drip of oil on beach. Remember the Deep Water Horizon Oil Explosion off of Louisiana? For one solid year— a tourist year—the tourist did not come to the west coast of Florida. Because they had seen those picture of what had happened to Pensacola beach.
Moreover, Sen. Nelson said oil drilling in the Atlantic Coast means "threatening the lifeblood of Florida's economy."
Furthermore, He said, "It is a threat not just to the environment but to its multi-billion tourism-driven economy. The stakes are exceptionally high. We simply can't risk it."
Pres. Trump's America First Offshore Energy Strategy
In April, President Donald Trump said the United States has abundant offshore oil and natural gas resources. However, the federal government kept 94% of its offshore areas closed for exploration and production. According to him, such policy "deprives our country of potentially thousands and thousands of jobs and billions in wealth."
At the time, Pres. Trump signed the executive order America First Offshore Energy Strategy. Interior Secretary Ryan Zinke is responsible for reviewing the current five-year development plan on the Outer Continental Shelf for offshore oil and gas exploration. The  order also required him to review the regulations and permitting process for development and seismic research.
Rep. Sanford introduced a bill to suspend oil drilling off the East Coast
According to Sen. Nelson, the prospect of oil drilling operation off the Atlantic Coast faces bipartisan opposition. Lawmakers particularly those representing tourism-dependent states are afraid a spill could tar beach-side economies. They are also concerned about its impact on aquatic habitats.
In response to the President's order, Rep. Mark Sanford of South Carolina introduced a bill to suspend offshore drilling and all related activities in the waters off the East Coast for the next decade.
"One of every ten jobs in South Carolina comes from tourism. This means $13 billion in impact every year to our coastal counties alone. Drilling would put this economic driver at risk," said Rep. Sanford.