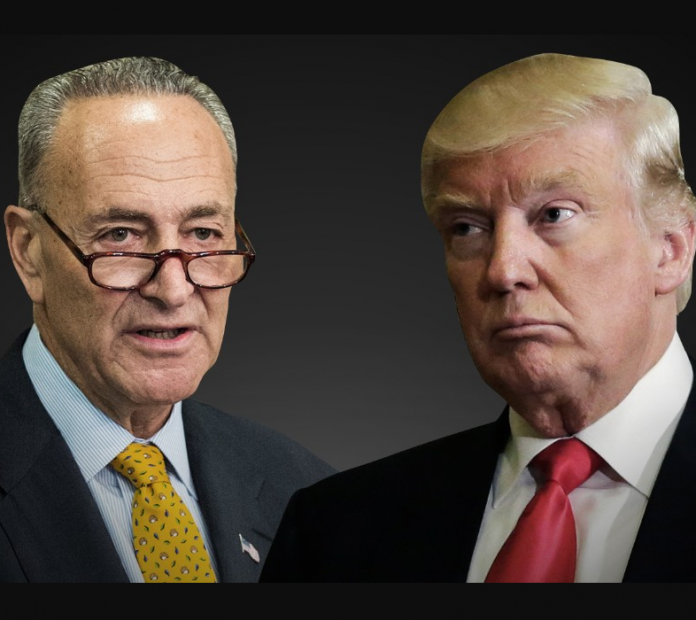 Earlier today, Senate Minority Leader Chuck Schumer stated that President's Trump push for a border wall may inadvertently cause a government shutdown, as reported by The Hill.
Schumer on President Trump and the Border Wall
The Senate Minority Leader's remarks strongly expressed his aversion to both President Trump and the border wall:
"If the President goes down that path and insists on the wall or shut down the government, which he said back in September, make no mistake about it, a government shutdown will fall entirely, entirely on his shoulders."
Schumer's assertions are not new or unheard of. Many Democrats have strongly criticized the President's calls for a border wall since their inception. However, President Trump's moves to fund and create the aforesaid wall have not wavered.
The Senate Minority Leader then opined that a Southern border wall serves as an ineffective measure:
"President Trump is fighting for an empty symbol rather than smart policy that will actually produce better security at our borders. A medieval wall that you can't see through across the length of the southern border will not make us any safer."
More on the Border Wall
The creation of a wall along the Southern border intended to halt illegal immigration was a central theme of President Trump's campaign. While many of his critics have slammed the wall as inhumane, xenophobic, etc, the majority of the President's supporters love the idea.
Conservatives and Trump supporters have moreover noted the undesirable impacts that illegal immigration has on America. According to the Federation for American Immigration Reform (FAIR), illegal immigrants cost U.S. taxpayers a whopping $116 billion annually. This is also AFTER their contribution of roughly $19 billion in taxes.
Many right leaning Americans have expressed concerns that the nation simply cannot afford the burden of illegal immigration. At a time where the national debt is through the roofs and veterans are starving in the streets, perhaps $116 billion could be put to better use.
Finally, conservatives have also countered Schumer's assertions that President Trump's push for the wall may engender a government shutdown. Republicans have also criticized Democrats for their current opposition to the border wall. Years ago, Democrats actually supported this policy, noted by watchful Americans on social media:
Democrats are so wholeheartedly against a wall yet they voted for it in 2006. Then-Sen. Obama voted for it. Sen. Schumer voted for it. Sen. Clinton voted for it. Democrats are now playing partisan political games just because Donald J. Trump is the POTUS

— MSG(Ret.)JOHN PARKS (@msgparks) January 9, 2018
Why do democrats resist the wall?

Bill Clinton
Obama
Hilary Clinton
Chuck Schumer
Nancy pelosi

All voted for a wall, but now trump is trying to keep his promise it's racist?

You just want a large underclass, new voters.

We all saw the memo.

— Please Build the Wall mr President. (@LibtardxSlayer) January 9, 2018
Stupid Senator Schumer we need the wall and Donald Trump is getting rid of all the wasteful spending that you idiots up there have done for decades there's plenty of money for that wall

— TrumpforAmericaSoldier (@creativetattooi) January 9, 2018
Did you know that Schumer is a lying old fool? Trump wants all these things. They are all necessary as a package for proper control. That includes the wall, much of which is already there, more which has already been approved by Congress, and improvements per Trump's request.

— Bob Jones (@noyfb4825) January 9, 2018
@ChrisCuomo The Dems just don't wanna give Trump a talking point of wall is funded. Tell me why Obama Schumer and 40 others voted for a barrier / fence along southern border in 06' but now have changed there tune. Nobody asks that question and it's valid !

— Anthony Caruso (@snakeyes12) January 9, 2018
Leftists want Trump to be declared mental. Is there a HYPOCRISY test that can be administered? I am sure that the following will fail—Michael Moore, Pelosi Hillary, Schumer, Dean, Obama, Clintons, Little Georgie Steph. of ABC.

— Stephen A Cakouros (@CakourosA) January 9, 2018