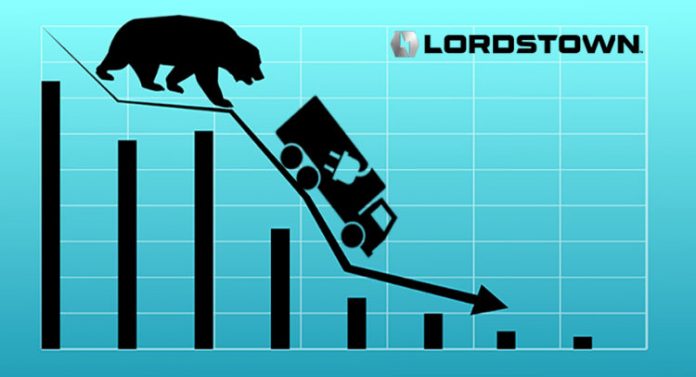 Hindenburg, a company specializing in forensic research, is targeting another electric car-maker. Now it's after Ohio-based Lordstown Motors recently went public through a special-purpose acquisition company (SPAC)  DiamondPeak Holdings Corp. Which has a current market value of $1.6 billion.
Short-selling Hindenburg Research's bombshell report recently devastated electric car-maker Nikola Motor. It prompted an SEC investigation and set off a chain of events leading to the resignation of Trevor Milton, Nikola's founder and CEO. And it completely disrupted the General Motors-Nikola landmark deal.
Hindenburg Shoots At Rising Star Lordstown Motors
Recently emerging as an independent company, Lordstown Motors is less than two years old. It went public in October 2020. Initially, Lordstown was part of CEO Steve Burns' other company, Workhorse Group. This publicly-traded battery-electric technology company retains a stake of 10% in Lordstown.
Workhorse, founded in 1998, is a small struggling company. It recently lost its bid to supply electric vehicles to the U.S. Postal Service. And its shares fell nearly 15% on the news. The firm's shares are now $16.58, down 60% from its February 4th high-mark of $42.96.
In 2019, the company purchased a 6.2 million-square-foot decommissioned GM assembly plant. And GM invested $75 million USD in the company. 
The company recently announced plans to produce 20,000 commercial EV trucks at the plant every year, starting in 2021.
Hindenburg Research report alleges fraud
On Friday, Hindenburg issued  The Lordstown Motors Mirage: Fake Orders, Undisclosed Production Hurdles, And A Prototype Inferno. Unfortunately, the report is taking a short position on Lordstown. At present, the electric car company has "no revenue and no sellable product. We believe this has misled investors on both its demand and production capabilities."
Incredibly, shares plummeted 21% on the news. Even after a slight recovery, they were still down at the end of business Friday.
Hindenburg disputes Lordstown Motors January stats it has booked 100,000 pre-orders for its EV truck. The short-seller report claims "extensive research reveals the company's orders appear largely fictitious. The stats are a prop to raise capital and confer legitimacy.". Allegations are the "Lordstown's fleet truck "orders" are a mirage."
Allegations claim an effort to raise capital. Supposedly, Steve Burns "paid for customers to book valueless, non-binding pre-orders" as early as 2016 at Workhorse.
The report also alleges "executives and directors have unloaded  approximately $28 million in stock. Hindenburg points at poor practices when executives unload stock in a company with no actual product which claims to be on the cusp of mass-production."
Lordstown unveiled the Endurance electric truck in June 2020. Hindenburg says the firm left out many important details. Plans for the pickup's interior design, battery, or performance criteria were not available. The company has completed "none of its needed testing or validation, including cold-weather testing, durability testing, and Federal Motor Vehicle Safety Standards (FMVSS) testing required by the NHTSA," Hindenburg's report states.
The report also provides photos and information of a 911 call of a January incident when a Lordstown prototype vehicle exploded into flames during a test drive.
Lordstown Responds
Burns told the Wall Street Journal Hindenburg's report contains "half-truths and lies." And accuses Hindenburg of trying to hurt Lordsburg's stock price in its first quarterly earnings report since it became publicly traded.
He confirmed Lordstown paid consultants to generate pre-orders. And says they were understood to be non-binding. He explained this was to "assess market demand." And denied the practice was a misrepresentation.
 A Lordstown Motors spokesperson responded in TechCrunch on Friday afternoon. "We will be sharing a full and thorough statement in the coming days, and when we do we will absolutely be refuting the Hindenburg Research report," the email statement said.