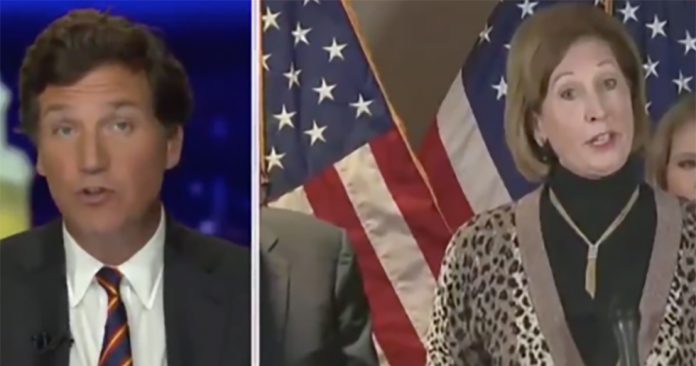 Sidney Powell, one of the main attorneys for the campaign of President Donald Trump, tore into Fox News host Tucker Carlson for being "insulting, demanding and rude."
Her comments came on Friday morning to Fox Business host Maria Bartiromo, mere hours after Carlson shredded Powell in his monologue on Thursday night during "Tucker Carlson Tonight."
"How did you respond to Tucker Carlson? Did you get angry with the show because they texted you and asked you to provide evidence of what you're alleging?" Bartiromo said.
Sidney Powell rips Tucker Carlson:

"He was insulting, demanding and rude. I told him to never contact me again" pic.twitter.com/QCQ5DBiqwu

— 🇺🇸 Tiff 🇺🇸 (@LATiffani1) November 20, 2020
"No, I didn't get angry with the request to provide evidence in fact I sent an affidavit to Tucker that I had not even attached to a pleading yet to help him understand the situation and I offered him another witness who could explain the mathematics of the statistical evidence far better than I can.
"I'm not really a numbers person. But he was very insulting, demanding, and rude and I told him not to contact me again in those terms," Powell said.
Carlson was the talk of Twitter on Thursday night after he demanded to see evidence of the Trump campaign claims of a rigged election.
Many Fox News fans, who have become disenchanted with the network, accused Carlson of stabbing Trump in the back the way they believe the entire network did.
"What (former Federal Prosecutor) @SidneyPowell1 was describing would amount to the single biggest crime in American history"

Yes @TuckerCarlson it would be

This is why it must go to court

Judges receive & assess evidence

Not legally-untrained mediapic.twitter.com/6b2SWQVWXK

— Maajid أبو عمّار (@MaajidNawaz) November 20, 2020
"We invited Sidney Powell on the show. We would have given her the whole hour," Carlson said on his show.
"But she never sent us any evidence, despite a lot of requests, polite requests. Not a page. When we kept pressing, she got angry and told us to stop contacting her," the host argued.
"She never demonstrated that a single actual vote was moved illegitimately by software from one candidate to another. Not one," he said.
He cast doubt on Powell and former New York City Mayor Rudy Giuliani's claims that the election was stolen, though he did not dismiss that it could be possible.
"What Powell was describing would amount to the single greatest crime in American history," he said.
—————————————-
Have a story you want USA Herald to cover? Submit a tip here and if we think it's newsworthy, we'll follow up on it.
Want to contribute a story? We also accept article submissions – check out our writer's guidelines here.