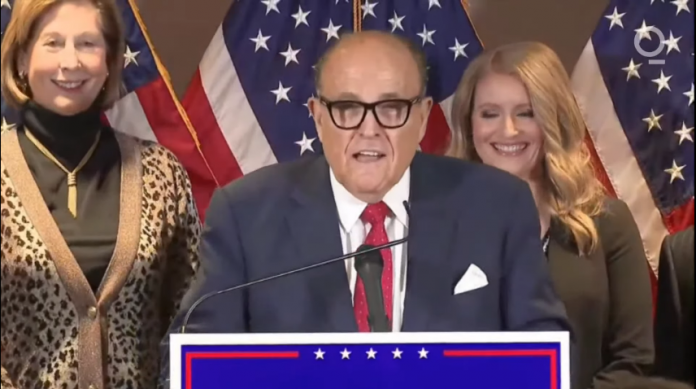 The Trump campaign has ramped up efforts to challenge the integrity of the 2020 presidential election, with no less than President Donald Trump's personal attorney, Rudy Giuliani, leading the charge.
During a news conference, Giuliani alleged that there was a "centralized" plan to execute voter fraud across the United States. However, he has yet to present any direct evidence of such claims.
"What I'm describing to you is a massive fraud," said Giuliani with other members of Trump's legal team standing beside him. The Trump campaign also repeatedly criticized the news media's coverage of the election.
"I'm in charge of this investigation, with Sidney [Powell] and the people you see here," Giuliani said when asked who helms the legal team. According to Giuliani, there was "pressure to go as fast as we can" as ballot certification deadlines come to a close.
Giuliani, who is a former New York City mayor, cited the incidents that took place in key battleground state Pennsylvania where GOP election watchers were barred from observing the counting process because they were kept too far away.
While a judge heeded Republican's call that their observers be allowed six feet away from the counting at a center in Philadelphia, the decision was overturned after officials intervened.
Giuliani also took a swipe at Pennsylvania's move to allow some absentee voters to fix any error with their ballots. He cited some sworn affidavits from poll workers who spoke about instructions from supervisors in Pennsylvania and another battleground state, Michigan.
Trump campaign legal adviser says gathering evidence takes time
Jenna Ellis, Trump campaign legal adviser, said more evidence would be presented in court.
"Trials and putting on evidence takes time, this is an opening statement so the American people can understand what the networks have been hiding," Ellis said, as she railed against the news media for projecting Joe Biden as the winner in the race.
She added, "If the media is not willing to talk about the evidence here, then that is unacceptable for journalistic standards."
President Trump earlier boasted that with the legal team doubling its efforts, this would lead to "a very clear and viable path to victory."
Important News Conference today by lawyers on a very clear and viable path to victory. Pieces are very nicely falling into place. RNC at 12:00 P.M.

— Donald J. Trump (@realDonaldTrump) November 19, 2020
The Cybersecurity and Infrastructure Security Agency (CISA) and other committees earlier declared the Nov. 3 vote as the "most secure in American history."
"There is no evidence that any voting system deleted or lost votes, changed votes, or was in any way compromised," they said in a statement on Nov. 12. "While we know there are many unfounded claims and opportunities for misinformation about the process of our elections, we can assure you we have the utmost confidence in the security and integrity of our elections, and you should too."
Watch Giuliani's news conference below:
—————————————-
Have a story you want USA Herald to cover? Submit a tip here and if we think it's newsworthy, we'll follow up on it.
Want to contribute a story? We also accept article submissions – check out our writer's guidelines here.