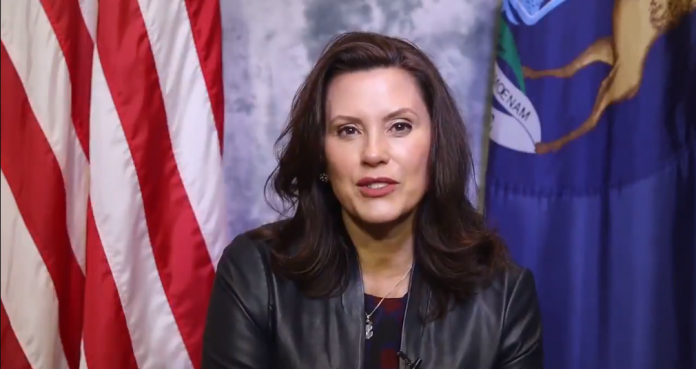 Authorities arrested and filed criminal charges against six men who are planning to kidnap Michigan Governor Gretchen Whitmer, according to the U.S. Department to Justice (DOJ) on Thursday.
The Federal Bureau of Investigation (FBI) and the Michigan Police arrested the suspects identified as Adam Fox, Barry Croft, Ty Garbin, Kaleb Franks, Daniel Harris and Brandon Caserta.
A criminal complaint was filed against the suspects on Tuesday. Fox, Garbin, Franks, Harris, and Caserta are residents of Michigan.  Croft is a resident of Delaware.
In the criminal complaint, FBI Special Agent Trask alleged that the bureau started an investigation earlier this year after discovering through social media that a group of people was planning a violent overthrow of certain government and law enforcement components.
The plan to attack the Michigan State Capitol and kidnap Gov. Whitmer
The FBI, through confidential sources, undercover agents, and secret recordings learned that Croft and Fox agreed to unite other individuals in their cause and take action against multiple state governments, which they believe are violating the U.S. Constitution.
Croft and Fox together with approximately 13 other individuals from several states met in Dublin, Ohio on June 6. A confidential source was present during the meeting, wherein they discussed creating a self-sufficient society that follows the Bill of Rights and several ways to achieve that goal from peaceful initiatives to violent actions. Some of the members of the group also discussed murdering "tyrants" or "taking" a sitting governor."
Special Agent Trask also alleged that the group agreed to increase their membership by recruiting their neighbors and spreading their message. Fox reached out to a militia group in Michigan, which already caught the attention of the FBI and a local police department in March this year.
In June, Fox met different members of the militia group at different times.
On June 14, Fox told two confidential sources in a telephone conversation that he needed 200 men to attack the Capitol building in Lansing, Michigan, and take hostages including Gov. Whitmer.
During a meeting on June 18, Fox, the leadership of the militia group, a confidential source and a Michigan resident named Ty Garbin met a Second Amendment rally at the State Capitol. Fox told Garbin and the confidential source that he plans to attack the state Capitol and asked them to combine forces.
On June 25, in a live-streamed video to a private Facebook group in which he complained about the judicial system and the state of Michigan controlling the opening of gyms. He also called Gov. Whitmer as a "tyrant bitch" and said, "I don't know, boys, we gotta do something. You guys link with me on our other location system, give me some ideas of what we can do."
On June 28, Fox, Garbin, Franks, Garseta including a confidential source and others attended a tactical training exercise at the residence of a militia group in Munith, Michigan. They also talked about attacking the government and kidnapping politicians.
On July 10 to 12, Fox, Croft, Garbin, Franks, Caserta, a confidential source, and others participated in firearms training and combat drills in Cambria, Wisconsin.
On July 18, Fox, Garbin, Croft, Harris, Franks, a confidential source, and others met in Ohio where they talked about attacking a Michigan Police facility. Garbin suggested the shooting of the Governor's vacation home during a separate meeting that day.
On July 27, Fox told a confidential source that the best way to kidnap Gov. Whitmer would be when she was she was arriving at or leaving, either her personal vacation home or the Governor's official summer residence.
In the recording provided by the confidential source to the FBI, Fox said, "Snatch and grab, man. Grab the fuckin' Governor. Just grab the bitch. Because at that point, we do that, dude — it's over." He added that they will take Gov. Whitner to a secure location in Wisconsin for "trial."
According to Special Agent Trask, Fox and his co-conspirators tried to avoid law enforcement detection by communicating using encrypted online platforms and "coded words." The suspects also conducted surveillance of the Gov. Whitmer's home several times in late August and mid-September.
The suspects started finalizing their plan to kidnap Gov. Whitmer on September 13. They agreed to spend $4,000 to buy explosives to blow up the bridge leading to the vacation home.
On several communications with his fellow suspects, Fox expressed his intention to kidnap Gov. Whitmer before the presidential election on November 3.
Authorities are committed to stopping violent extremists
On Thursday, U.S. Attorney Andrew Birge called the suspects violent extremists and stated that they will do everything to stop their evil plans against elected officials.
"Federal and state law enforcement are committed to working together to make sure violent extremists never succeed with their plans, particularly when they target our duly elected leaders," said U.S. Attorney Birge.
On the other hand, FBI Assistant Special Agent in Charge Josh P. Hauxhurst, said, "These alleged extremists undertook a plot to kidnap a sitting governor. Whenever extremists move into the realm of actually planning violent acts, the FBI Joint Terrorism Task Force stands ready to identify, disrupt, and dismantle their operations, preventing them from following through on those plans."
—————————————-
Have a story you want USA Herald to cover? Submit a tip here and if we think it's newsworthy, we'll follow up on it.
Want to contribute a story? We also accept article submissions — check out our writer's guidelines here.