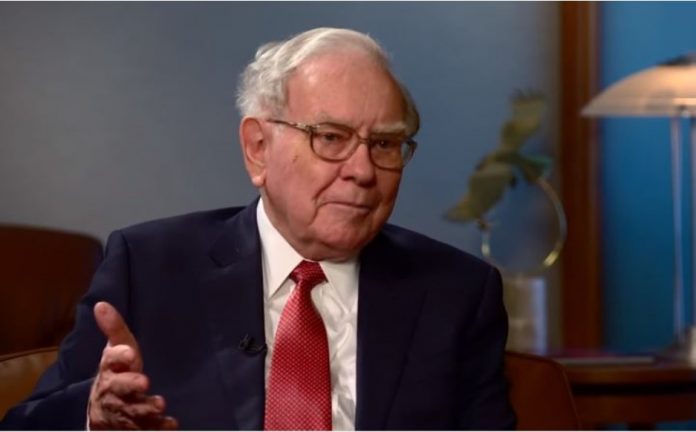 At the beginning of the year, the coronavirus (COVID-19) crept into the US, closing down businesses, causing mass panic and a recession that has affected everyone including the legendary billionaire investor Warren Buffett.
Fortunately for him, many of the companies Berkshire Hathaway Inc. (NYSE: BRK.A) (NYSE: BRK.B) has invested in have only felt "relatively minor to severe" effects from the COVID-19 outbreak. We know this from Berkshire's most recent earnings report that revealed a pretty level portfolio performance during the spring and early summer.
Regardless, Berkshire reported an 87% increase in quarterly profits giving the "Oracle of Omaha" some credibility that he knows how to weather the storm this  2020.
Take full advantage of low-interest rates
Warren Buffett is well known for making his wealth by capitalizing on opportunities. During the coronavirus pandemic, the billionaire sees incredible opportunities for borrowers in 2020. According to him, he is thankful to the Federal Reserve.
In an effort to stimulate economic recovery from the coronavirus, Buffet believes the Fed Reserve "did the right thing" by cutting interest rates to almost zero. As a result, other rates have fallen respectively meaning borrowers are getting the best deals we've seen in a long time on debt.
"This is a very good time to borrow money, which means it may not be such a great time to lend money, but it's good for the country that it's a good time to borrow money," said Buffett during Berkshire Hathaway's online shareholders' meeting earlier in the year.
How can you put this advice to good use? If you're a home buyer or homeowner and have a solid credit score,  you should be looking to take advantage of today's all-time-low mortgage rates or refinancing your current mortgage before they rise again.
Prepare for the worst
There's a reason people call Buffett the "Oracle of Omaha". The investing legend said during a March interview that he, "Always felt a pandemic would happen sometime."
In 2019, he cautioned investors to prepare for a "mega catastrophe," since we had not seen one in some time and that the odds pointed towards us is due for one. He said it would be a "total surprise", one that would dwarf events like the hurricanes Katrina and Michael, which we all know were as devastating as it gets (or so we thought).
The "mega catastrophe" would cause massive losses for his company given the large interests it has in the insurance business (it owns Geico and other insurers). However, Buffett believed Berkshire would be ready for business the next day, insinuating the company was building positions in its portfolio to hedge the bets previously placed on insurance companies.
You can also prepare by buying life insurance, providing financial protection for your loved ones. We've seen that with the COVID-19 pandemic proving to be a deadly force against the major income providers in a family. It makes sense to invest in a policy that will cover your family's financial security if you pass away.
Don't carry credit card balances
It's tough. We all know it. Especially if you are one of the many who have been laid off or furloughed due to the pandemic.
With so many people losing their main source of income, we've seen a huge jump in credit card debt. This is a clear sign people without jobs are trying to cover their living expenses and buy time until they can land another gig.
Turning to credit cards because of financial hardship is one thing, however, Buffett says some people use credit cards as "a piggy bank to be raided."
During the Berkshire virtual shareholders meeting, Buffet gave a personal anecdote about a friend who came into a windfall and asked for advice on what they should do with it. The friend also had credit card debt at an 18% interest.
Buffett believes that paying off credit card debt that is accumulating interest at an 18% rate is just as good of an investment as buying stocks that give you an 18% return. The difference is that paying off the debt is more freeing and ultimately more beneficial since you will also see improvements in your credit score. An improved credit score gives you more freedom and access to financial opportunities.
When credit card debt becomes overwhelming, a good first step to getting rid of it is to roll it into a debt consolidation loan. You'll simply put your bills into one payment and cut interest costs. This will help pay off the debt faster and make it easier to keep track of and manage.
Research stocks before investing
The coronavirus crisis has devastated entire industries such as retail, restaurants/entertainment, and travel.
"The airline business — and I may be wrong, and I hope I'm wrong — changed in a major way," Buffett told his shareholders. Berkshire sold its position in airline stocks for this very reason.
Buffett says people are now discouraged from and scared of flying, so "the world has changed for the airlines." This is a mentality he believes will last for a long while even after a vaccine is available to the public.
Create a plan for the long-term and stick to it
Warren Buffett shared that he is confident the U.S. economy will bounce back from the COVID-19 crisis.
"Nothing can basically stop America," he said at the online shareholder meeting. "We haven't really faced anything that quite resembles this problem, but we faced tougher problems. The American miracle, American magic has always prevailed, and it will do so again."
But he also warned no one knows what's going to happen. We cannot predict the future. We can only make educated estimates. He told investors they should brace themselves for a potentially long recovery. He says they'll get a "fine result" if they hold onto stocks long-term, a promise he has made long before the pandemic and has been right about.
Financial planning services can help guide you with your investments especially if finances are not your strength. Finding a good financial service is much more affordable and convenient than you might think. A simple google search and utilization of your professional network can help you find a credible and affordable advisor.