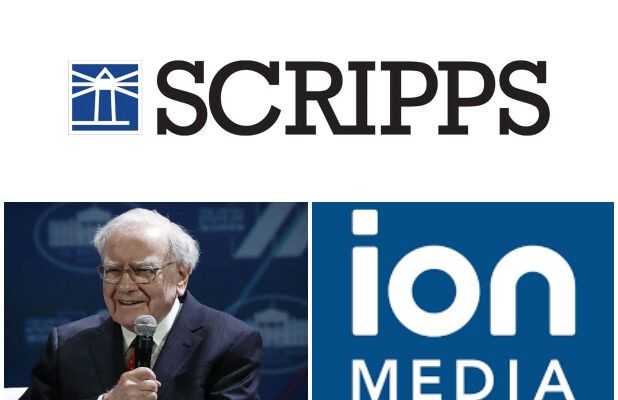 Berkshire Hathaway, the multinational conglomerate controlled by legendary billionaire investor Warren Buffett, invested $600 million in E.W. Scripps Company (NASDAQ: SSP), the fourth-largest independent TV station owner in the United States.
This is the second major investment by Berkshire Hathaway this September. Earlier this month, Buffett's conglomerate purchased around $734 million worth of shares in Snowflake during its initial public offering (IPO).
On Thursday, E.W. Scripps said Berkshire Hathaway's preferred equity investment will help finance its $2.65 billion acquisition of ION Media, a national broadcast network.
Buffett's conglomerate also will receive a warrant to purchase up to 23.1 million Class A shares of Scripps at an exercise price of $13 each. It means Berkshire Hathaway will invest an additional $300.3 million in the TV station owner at any time in the future, but no later than one year after all preferred stock has been redeemed.
Berkshire Hathaway invests in companies that it believes are long-term winners–companies that that can consistently deliver value or generate good returns to shareholders for years to come. Its huge investment shows its confidence that Scripps will be profitable.
Berkshire Hathaway is attracted by Scripps' "history of value creation"
In a statement, Buffett's lieutenant, Ted Weschler, who is responsible for Berkshire Hathaway's investment noted that E.W. Scripps has a "history of value creation" and that "drove their interest in the transaction."
Weschler also stated, "As the media industry continues its rapid evolution, Berkshire Hathaway is fortunate to partner with this management team and the Scripps family, who have successfully anticipated the future of media for over a century."
The stock price of Scripps jumped nearly 23%, on the announcement that  Berkshire Hathaway is backing Scripps acquisition of ION Media.  Analysts were pleased that the transaction obtained Buffett's seal of approval.
"We expect investor interest in SSP to accelerate on the back of this deal," said Wells Fargo Securities analyst Steven Cahall.
Scripps acquisition of ION Media will double its EBITDA 
Scripps described its acquisition of ION Media as a transformative transaction that will double its earnings before interest, taxes, depreciation, and amortization (EBITDA) and will yield in $500 million synergies over the next six years.
The combination of Scripps' Katz networks and ION Media will create a full-scale national television network business. The companies' networks operate in the over-the-air (OTA) television marketplace, which experienced a 67% growth to 25% of all TV households, according to a Parks Associates research.
The OTA growth is expected to accelerate because of the ongoing COVID-19 pandemic. The research also indicated that both companies' networks performed "relatively well" in the national advertising marketplace this year amid the economic crisis.
Scripps Executive Vice President and Chief Financial Officer Lisa Knutson said, "We have created tremendous shareholder value while managing debt through asset sales and high-cash-flow revenue streams such as retransmission fees and political advertising, working all the while to maintain a flexible balance sheet in order to capitalize on our next opportunity."
"Now we are building an even stronger financial foundation that will allow us to act as leaders in the future of the television industry while we serve our audiences and consumers in effective and efficient new ways," she added.
A strategic acquisition that will boost coverage and operational efficiencies
FitchRatings sees the deal as a strategic acquisition that will expand coverage of U.S. TV households and scales up operations to compete with the increase in online streaming. 
The merger will increase "operational efficiencies" by reducing ION's programming costs, cutting Scripps carriage costs, and eliminating duplicative costs for both broadcasters.
According to Scripps, "ION Media has the fifth-largest average primetime audience among all U.S. cable-carried networks and reaches more than 100 million homes through over-the-air and pay-TV platforms."
Mergers and acquisitions in a changing landscape 
In recent years, the U.S. broadcast media sector has experienced profound changes. With content streaming from online platforms, the advertising revenue has shifted to the internet.  There have also been three important purchases/ mergers. 
In the past year, AT&T, Comcast, and Disney have spent $215 billion on acquisitions. 
AT&T purchased Time Warner for $104 billion

Disney purchased a large stake in 21st Century Fox for $71 billion

Comcast bought European broadcaster Sky for $40 billion
The US broadcasters are fighting for market share and trying to compete with three tech giants who have morphed into media companies.  Netflix, Amazon, and Apple have all launched streaming platforms. Everyone but Disney is struggling to create and provide the public's need for constant content.
—————————————-
Have a story you want USA Herald to cover? Submit a tip here and if we think it's newsworthy, we'll follow up on it.
Want to contribute a story? We also accept article submissions — check out our writer's guidelines here.