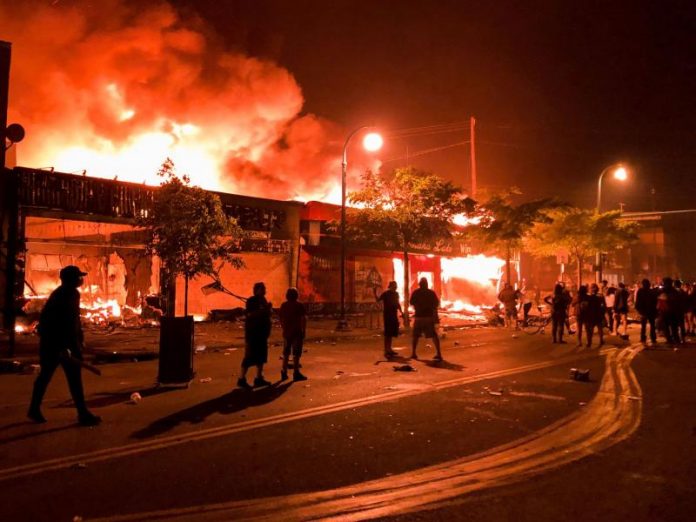 The Department of Justice (DOJ) charged over 300 individuals for crimes committed during protests across the United States.
According to the Justice Department, the charges were filed against people from 29 states and Washington, D.C. since the end of May. There have been other arrests on a state and local level that are not included in the federal crime report.
"Violent opportunists have exploited these demonstrations in various ways," the DOJ noted in a press release.
Currently, 94 US Attorneys' Offices (USAOs) have been active in the effort. Multiple law enforcement agencies are helping in the investigations including the Federal Bureau of Investigation (FBI), the U.S. Marshals Service, and the Bureau of Alcohol, Tobacco, Firearms, and Explosives (ATF).
Federal crimes ranging from civil disorder to 
attempted murder 
The defendants are facing criminal charges ranging from attempted murder, assaulting a law enforcement officer, arson, burglary of a federally-licensed firearms dealer, damaging federal property, malicious destruction of property using fire or explosives, felon in possession of a firearm and ammunition, unlawful possession of a destructive device, inciting a riot, felony civil disorder, and others.
The Justice Department said around 80 people were charged with arson and explosives related offenses and 15 were charged with destruction of or damage to federal property. In some instances, these individuals are alleged to have set fires to local businesses, as well as, city and federal property.
DOJ says public property damage in the millions
The public properties that were destroyed or damaged include the Portland Courthouse. Mr. Agard-Berryhill, 18 has been charged, on July 28 with creating explosions,  and "using fires to maliciously damage the Mark O. Hatfield U.S. Courthouse in downtown Portland."
"No legitimate protest message is advanced by throwing a large explosive device against a government building. Mr. Agard-Berryhill's actions could have gravely injured law enforcement officers positioned near the courthouse, other protesters standing nearby, or himself," said U.S. Attorney Williams.
The DOJ charged two individuals named Shelby Ligons of Nashville, Tennessee, and Wesley Somers of Hendersonville, Tennessee for allegedly causing the fires and explosions at Nashville Courthouse on May 30.
Public properties were also damaged or destroyed in the Minneapolis Police Third Precinct, Seattle Police East Precinct, and a local high school in Minnesota. Police vehicles have been set on fire in South Carolina, Washington, Rhode Island, Georgia, Utah, and other states.
During the protests, corporate and local businesses were also targeted including the Target Corporate headquarters in Minneapolis,  Boost Mobile Store in Milwaukee, Champ Sports Store in Tampa, a pizza parlor in Los Angeles, and a sushi bar in Santa Monica.
"Through these acts, these individuals have shown minimal regard to their communities and for the safety of others and themselves," according to the DOJ.
The Justice Department estimated that the damages to public properties cost millions of dollars in taxpayers' money.
Charges of violence and threats of violence pending
 In Virginia Beach, VA,  authorities arrested a man alleged to have threatened to burn down an African American church.  John Malcolm Bareswill pleaded guilty to making threats by telephone to burn the church and kill the pastor.  He faces a maximum penalty of ten years in prison when sentenced on Nov. 12.  
Around 35 individuals have been charged with violent crimes including "assaulting a law enforcement officer and related offenses." 
One of the cases was in Boston, Massachusetts where a man attempted to shoot police officers. In Oregon, there were 34 cases involving various violent assaults that targeted law officers.
The DO also stated that 30 individuals have been charged with offenses related to civil disorder and additional charges have been filed for "burglary and carjacking."  
Several of the individuals charged face substantial maximum prison sentences. Assaults on federal officers are charged as a felony, and if a dangerous weapon is used, it carries up to 20 years in prison.  Arson is punishable with a minimum of 5 years in prison and a maximum of up to 20 years in prison.
—————————————-
Have a story you want USA Herald to cover? Submit a tip here and if we think it's newsworthy, we'll follow up on it.
Want to contribute a story? We also accept article submissions — check out our writer's guidelines here.