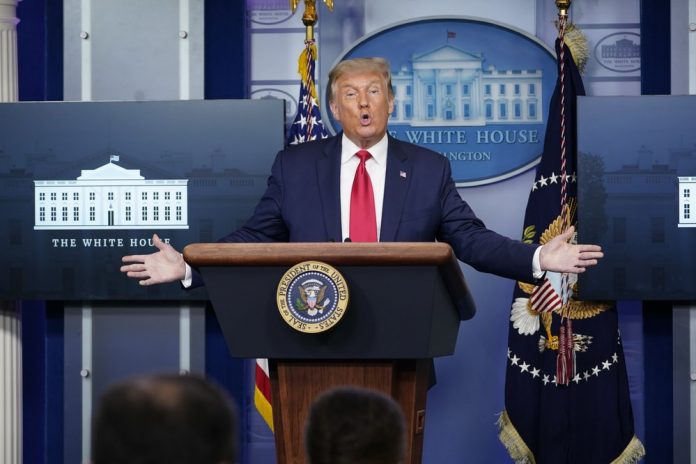 President Trump pushed back against a probing press pool today at a White House press conference where they questioned why he downplayed the risk of the novel coronavirus or COVID-19.
In his new book entitled "Rage," investigative journalist Bob Woodward revealed that Trump already knew in February that the COVID-19 is dangerous.
During an interview with Woodward on February 7, Trump told him that the virus was "deadly stuff" and  "It's also more deadly than your – you know, your, even your strenuous" cases of flu.
In a later conversation on March 19, Trump admitted to Woodward that he "always wanted to play it down." and that he "liked to play the virus down…because I don't want to create a panic."
Trump says he wants to maintain "calmness" amid the COVID-19 pandemic
During the press briefing on Thursday, the President did not deny his comments to Woodward about the virus. He also reiterated that he downplayed its risk to public health because he doesn't want people to panic. He pointed out that the country needs "calmness" amid the pandemic.
Trump told the grilling reporters, "I don't want to jump up and down and start screaming death, death because that's not what it's about. We have to lead a country. We're leading a great country. We're doing a great job."
"The fact is, there has to be a calmness. You don't want me jumping up and down screaming there's going to be great death. Really causing serious problems for the country," said Trump.
He then emphasized, "If Bob Woodward thought it was bad, then he should have immediately gone out publicly right after I said it…gone out to the authorities…not wait for four months." Trump added that Woodward "didn't think it was bad. He actually said he didn't think it was bad."
"Bob Woodward is not the president," commented Washington Post reporter Phil Rucker, who had been questioning Trump.
Another reporter fired back by arguing that European Union leaders like Germany's Chancellor Angela Merkel sounded the alarm without creating a panic.
Trump argues everyone knew the virus was airborne
Trump went on to argue that the world knew COVID-19 was an airborne illness before his conversation with Woodward. "China said it was airborne earlier than the statements I made,"  he said.
China began seeing cases of COVID-19 as early as November 17, 2019, according to Chinese government data seen by the South China Post.
Whether China had advance knowledge of the virus being airborne is unknown, since the Chinese Communist Party keeps a tight leash on its data and the press.
As late as May 4, the World Health Organization (WHO) was still undecided as to whether COVID-19 posed an airborne risk. Woodward's new book is another Trump expose, which once again aims to put Trump in an unflattering light.
As we reach the final countdown to election day, Woodward's bombshell book could cleave away voters on the fence about Trump.
While Trump has hammered Joe Biden on his response to the riots in Portland, Seattle, Michigan, and Wisconsin, Democratic detractors have continued to point to Trump's coronavirus response and its high casualty count.
It remains to be seen if Woodward's revelations or Trump's response will sway voters.  It is likely that this recent spat will be buried by tomorrow's 'breaking story' or 'set of revelations.'
————————————————–
Have a story you want USA Herald to cover? Submit a tip here and if we think it's newsworthy, we'll follow up on it.
Want guaranteed coverage? We also offer contract journalism here.  Just be sure you're comfortable giving up editorial control because our journalists are dogged and will follow the story through to the conclusion. The story will be published to our exacting standards, without regard for your preferred slant.
Want to contribute a story? We also accept article submissions — check out our writer's guidelines here.