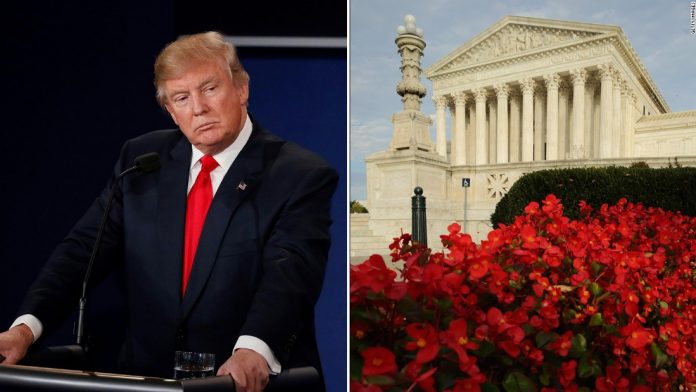 According to sources, The US Supreme Court will swiftly reject Donald Trump's Tax Return Appeal.   The decision will be made official this month and Trump will immediately have to hand over his tax returns.
President Trump asked the Supreme Court on 11/14/19 to stop a prosecutor's investigation of his personal finances.   In essence this assertion of presidential power seeks a landmark decision from the nation's highest court.
The filing by the president's private lawyers represents a historic moment that will test the court and highlights the Constitution's separation-of-powers design. It also marks a new phase in the investigations that have dogged Trump throughout his presidency and have culminated in an impeachment inquiry.
The case involves Manhattan District Attorney Cyrus Vance Jr.'s attempt to enforce a grand jury subpoena issued to the president's accountants for eight years of Trump's tax records.
Trump went to court to block the subpoena, making a broad claim that U.S. presidents are immune from investigation while in office. A district judge and a panel of the U.S. Court of Appeals for the 2nd Circuit ruled against him, saying that the subpoena was proper and that the president's longtime accounting firm, Mazars USA, must
Vance's office, which declined to comment Thursday, agreed to hold off on enforcing the subpoena if Trump's lawyers quickly asked the Supreme Court to hear the case this term.
"For the first time in our nation's history, a state or local prosecutor has launched a criminal investigation of the President of the United States and subjected him to coercive criminal process," wrote Jay Sekulow, one of the president's lawyers.
He added: "Politically motivated subpoenas like this one are a perfect illustration of why a sitting president should be categorically immune from state criminal process."
Justice Ruth Bader Ginsburg in media interviews before the 2016 election criticized Trump's decision not to release his tax information, as other presidential nominees had done.
"How has he gotten away with not turning over his tax returns?" Ginsburg said in an interview with CNN. "The press seems to be very gentle with him on that." After criticism, Ginsburg said she should not have commented on the candidate.
Stay tuned to this developing story.