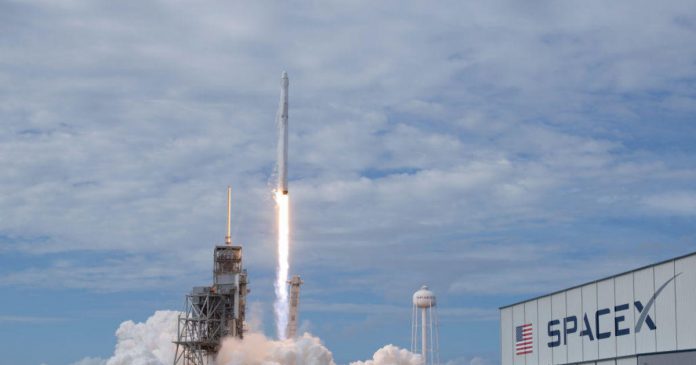 On Saturday, September 10 the SpaceX launch was a success. The record-breaking 14th mission with the reusable Falcon 9 booster was filled with "firsts." At 9:34 p.m. it blasted off from NASA's Launch Complex 39A (LC-39A) at Kennedy Space Center.
The multi-purpose mission was billed as one of SpaceX's most complex launches ever.
It successfully deployed 34 Starlink internet satellites. And sent AST SpaceMobile's BlueWalker 3 satellite into orbit. The BlueWalker space testing satellite is being deployed for use with SpaceMobile's space-based cellular broadband network.
2 SpaceX launch preparations
On Friday SpaceX brought two rocket landing platforms from Port Canaveral into the Atlantic Ocean.  SpaceX rolled the Falcon 9 to pad 39A during the ongoing preparations of the seaside launch complex. The construction is to create a future base for SpaceX's massive reusable Super Heavy booster and the Starship rocket.
Ground crews then raised the 229-foot-tall (70-meter) Falcon 9 to the vertical launch position on pad 39A. Within 12 hours pad 40 was prepared whereas the other Falcon 9 was set upright on pad 40.
Saturday night's launch will be followed by a second Starlink mission from pad 40 that is tentatively scheduled for Tuesday night.
The launch from Saturday from pad 39A was the first of two Falcon 9s SpaceX prepared for quick succession liftoffs. 
A second Falcon 9 rocket stands at the Space Launch Complex pad 40 at Cape Canaveral Space Force Station. This mission is just a few miles south of Kennedy. And will haul 54 Starlink satellites into low-earth-orbit this week.
Falcon 9 Fleetleader with 14 missions
In the rocket's upper stage, the Falcon 9s engines were fired five times.  A record number of engine burns were needed to deploy AST SpaceMobile's BlueWalker 3 satellite. And also 34 Starlink payloads which sent both payloads into separate orbits. The upper stage rocket burned up in Earth's atmosphere in a planned destructive reentry.  
Saturday marked the 14th launch and safe landing of this Falcon 9 first-stage booster. It has previously sent out the Crew Demo-2, ANASIS-II, CRS-21, and 2 Transporter rideshare missions. And also launched a S. Korean military satellite and now nine Starlink missions into orbit.
 The first stage of the Falcon 9 rocket flown Saturday became SpaceX's fleet leader.
The SpaceX fleet leader designated as B1058 had its maiden space voyage on May 30, 2020, with an astronaut crew on a Crew Dragon spacecraft.