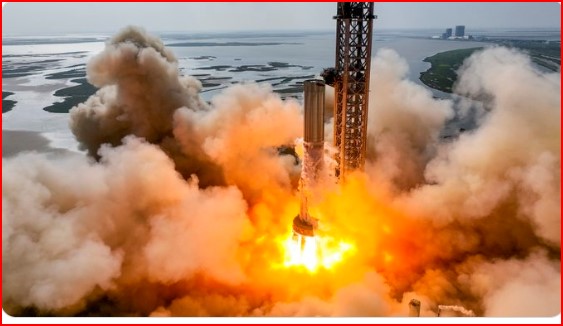 On November 29 at Starbase, Texas facility SpaceX performed a successful static fire test that lit up multiple Raptor engines of prototype Booster #7. Eleven of the thirty-three Raptor engines were ignited for 13 seconds. 
Assuming each engine was at full throttle, which means that there were about 5.61 million pounds of thrust. If all thirty-three of the Raptor 2 engines had been engaged the thrust power would have been over 16 million pounds of launch power thrust.    
 On November 14th SpaceX ground teams engaged 14 of the booster engines in the last static fire test.
SpaceX continues to prepare the Starship Mars rocket for its first-ever orbital test flight. This is the newly developed Starship's first-stage Super Heavy rocket.
See the replay of the static fire test below. The static fire occurred at 2:42 p.m. EST and lasted for 13 seconds. The video was provided by  NASASpaceFlight.
The private space agency appears to be on track to launch the stacked and loaded Starship system next month. SpaceX CEO Elon Musk announced after the test that "possibly one more static fire" test of the booster might be needed. And the next step would be an orbital launch attempt.
Static Fire of Super Heavy Booster 
The top of each booster on the Starship 24 spacecraft was tested on September 8th. All six upper-stage  Raptors smoothly lit up in the static fire test.