Four astronauts are headed to the International Space Station (ISS) after launching from Cape Canaveral, Florida aboard a SpaceX Dragon Capsule on Sunday. Baby Yoda from The Mandalorian, of Star Wars franchise fame, is safely on-board, as the zero-G indicator.
Crew Dragon launch success
This is a landmark mission for NASA and SpaceX since it is the first time a private company sent a fully operational crewed mission into space. In May, the mission that carried NASA astronauts Douglas Hurley and Robert Behnken to the ISS was a benchmark test. 
Last week, SpaceX received the official certification from NASA that the Crew Dragon is approved for carrying astronauts in the future.
This Sunday mission to the ISS is the real thing. The four astronauts including Mike Hopkins, Victor Glover, Shannon Walker, and Soichi Noguchi are riding in the Crew-1 capsule. 
In a statement, NASA Administrator Jim Bridenstine said, "NASA is delivering on its commitment to the American people and our international partners to provide safe, reliable, and cost-effective missions to the International Space Station using American private industry.
"This is an important mission for NASA, SpaceX, and our partners at JAXA, and we look forward to watching this crew arrive at the station to carry on our partnership for all of humanity," added Bridenstine.
On the other hand, SpaceX president and chief operating officer Gwynne Shotwell said, "Falcon 9 looked great, Dragon was dropped off into a beautiful orbit about 12 minutes into the mission, and we'll get more data as we go."
Watch the successful launch on NASA TV!
Zero-G indicator
It is a tradition that every spaceflight has a "zero-G indicator." This is a small, usually a soft object that floats freely when the spaceship hits a microgravity environment.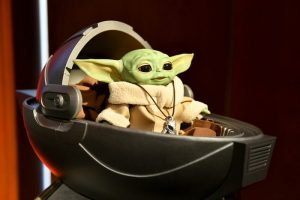 The SpaceX Crew-1 astronauts have chosen "The Child," better known as Baby Yoda as a zero-G indicator. The small plush soft toy is perfect for the job.
The Crew Dragon was released from the Falcon 9 rocket as it pushed against the Earth's gravity and was launched into low-earth-orbit. Baby Yoda rose to the occasion. It has been bouncing around the crew in the cabin confirming they are in a gravity-free zone. 
All over the world, the astronauts and a free-floating Baby Yoda are seen in live shots as they head to the ISS.  
Past flights also had some cute and cuddly zero-G indicators on their trips. In May, NASA astronauts Bob Behnken and Doug Hurley brought a stuffed dinosaur named Tremor, which was chosen by their sons.
Other zero-G indicators from past flights include a plush Earth nicknamed "Earthy," on the first uncrewed test flight test of Crew Dragon. The Boeing flight CST-100 Starliner in 2019 took a Snoopy dressed as an astronaut.
While pointing skyward, Baby Yoda said, "This is the way!"
—————————————-
Have a story you want USA Herald to cover? Submit a tip here and if we think it's newsworthy, we'll follow up on it.
Want to contribute a story? We also accept article submissions – check out our writer's guidelines here.