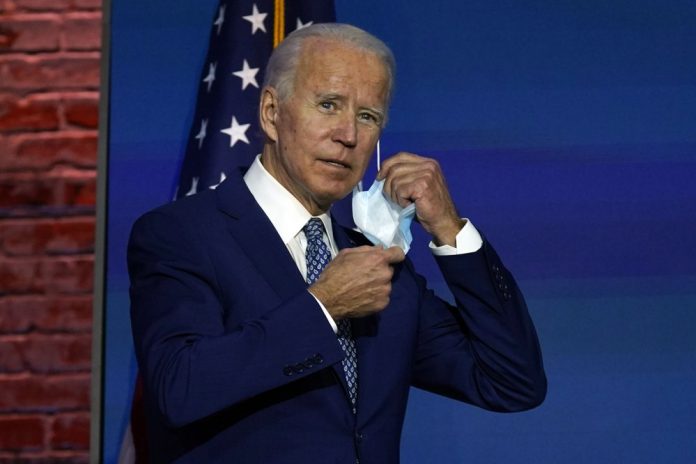 In an ongoing battle against President Donald Trump over a chosen election victor, President-elect Joe Biden said Monday that he "wouldn't hesitate" on receiving the COVID-19 vaccine if approved by the Food and Drug Administration (FDA) in attempt to juxtapose his administration to the Trump admin.
Biden's media appearances over the last couple of weeks since being declared President-elect have one common theme – criticize the White House while offering an alternative vision that is a little more mainstream and predictable.
The COVID-19 pandemic has been a key topic throughout the 2020 election with both candidates sparring over infection rates, travel bans, lockdowns, and viable solutions to solving the biggest crisis of the 21st century.
"I think we're on a clear path now. We're on a clear path with the international community and international leaders, and the scientific community have focused on these two vaccines," Biden opined. "They appear to be ready for prime time, ready to be used. And if that continues along those roads, I would take the vaccine."
Biden's statement follows positive development regarding Moderna's COVID-19 vaccine candidate, which has an efficacy rate of 94.5%, and the Pfizer-BioNTech vaccine, which showed more than 90% effectiveness.
While Biden has said he would be willing to take a vaccine approved by regulatory authorities, other Democrats have taken a partisan stance on a vaccine. Take Sen. Sheldon Whitehouse (D-RI), who said, "I would like to say FDA approved and CDC recommended, but given how those two agencies have gotten screwed up by President Trump, there is an asterisk by that. Unfortunately, they aren't the gold standard any longer, so you need to take a slightly closer look."
Echoing Whitehouse, Sen. Richard Blumenthal (D-CT) said "Assuming the FDA process is free of FDA interference, that is a big assumption that should be unnecessary even to state, but I have confidence that thorough clinical testing combined with objective and independent assessment by the FDA will yield a vaccine that is safe and effective."
Indeed, Democrats have continually criticized the Trump admin. for its handling of the pandemic and questioned whether a vaccine brought forth by said administration would be safe for the public. It will be interesting to see whether Democrats have changed their tune on a vaccine now that Biden is at the helm.
—————————————-
Have a story you want USA Herald to cover? Submit a tip here and if we think it's newsworthy, we'll follow up on it.
Want to contribute a story? We also accept article submissions – check out our writer's guidelines here.