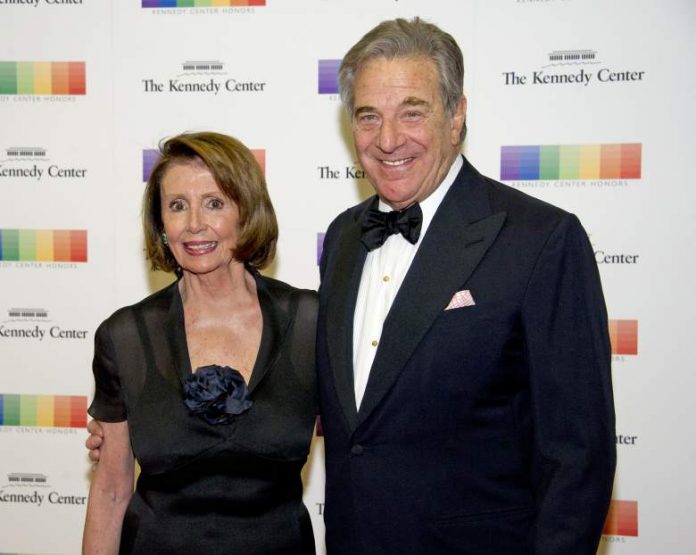 US Speaker of the House Nancy Pelosi's husband was arrested at 10:30 PM on Saturday for drunk driving.
According to California online police booking records Paul Pelosi, 82, crashed his Porsche a few miles from the couples' multi-million-dollar vineyard, River Run. His accident occurred at the off-ramp of State Route-29 in Napa Valley. Heading towards a country lane that borders other vineyards.
When he attempted to cross SR 29, "his Porsche was struck" by a local man in a 2014 Jeep. The 48-year-old driver of the jeep was seemingly not at fault and was not held or arrested at the scene.
Based on photos of the junction, the California Democrat's husband may have driven through a stop sign. 
No one was injured in the crash.
Pelosi was charged with one count of driving under the influence. And one count of driving with a blood alcohol content level of 0.08 or higher. His bail was set at $5,000 for both misdemeanor charges.
He was released on bail at 7:26 am from the Napa County detention center
 "No comment" about Pelosi's husband
The spokesperson for Nancy Pelosi, Drew Hammill, said that "the Speaker will not be commenting on this private matter which occurred while she was on the East Coast."
Paul Pelosi is a retired venture capitalist and ran a company called "Financial Leasing Services." The couple have amassed a fortune of over $100 million dollars. And Pelosi's husband is still doing multi-million-dollar-stock deals despite the controversy in Congress regarding stock trades.
 He and the Speaker have been married since 1963. And have five children together.
They spend time in California and Washington DC. And Nancy Pelosi, 82, represents a San Francisco district in the House of Representatives.
The Speaker was in Rhode Island on Sunday afternoon delivering Brown University's commencement address.
The luxury vineyard is one of the houses owned by the couple.  According to the architect, "The interior of the main house was inspired by Palladian villas and built to feel like an interior Zen Garden." It also features a "Z" shaped infinity pool overlooking the vineyards.