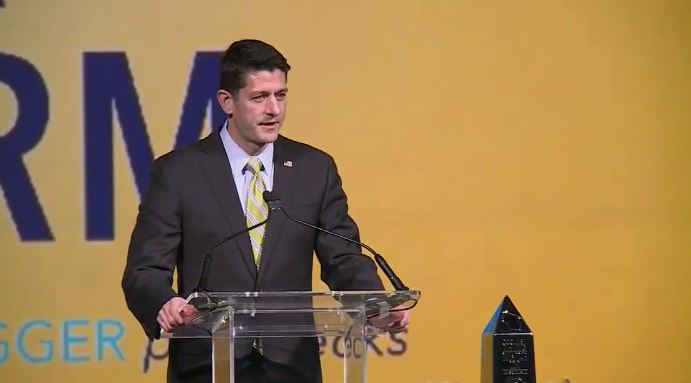 House Speaker Paul Ryan is very optimistic about the passage of the Republican tax reform legislation this year.
On Monday, Ryan said the tax reform bill is "better wired for success" than the Obamacare repeal bill. He made the statement during the Wisconsin Chamber of Commerce meeting.
The House Speaker predicted that the House will pass a tax reform bill "early in November. He expected to make it through the Senate and eventually signed into law by President Donald Trump by the end of December.
Ryan is confident that Republicans will succeed with the tax reform legislation because they appear to agree on tax principles. The White House together with the House and Senate leaders worked together in developing a tax reform framework, which will serve as the basis for negotiations.
He said, "So the procedure and the process are much more direct and streamlined. Republicans are more in agreement on how to do it. And we pre-agreed with the House, the Senate and the White House at the front end of this on how to do it. And that's where we stand and that's why we're on track."
Ryan expects bipartisan support for  tax reform legislation
Although the Republicans control the House, Senate, and the White House, they are still experiencing difficulty pushing their policy agenda. They already failed twice in their attempt to repeal and replace Obamacare. Their biggest obstacle is the Senate where they cannot afford to have more than two defections. The GOP controls the Senate by a slim margin 52-48.
According to Ryan, he is confident that the tax reform legislation will pass the Senate with a bipartisan support.
Last week, he encouraged conservative Republicans to engage in debates and rebuff criticisms against the GOP tax reform proposal. He strongly believes that the GOP tax plan will provide "real relief" to the middle class.
According to him, "We are throwing out the special-interest loopholes" that are complicating the tax code.
Democratic leaders say GOP tax plan is a giveaway for the rich
On the other hand, Democratic leaders have been criticizing the GOP tax plan as "deficit-exploding, multi-trillion dollar tax-giveaway to the wealthiest."
In a blog post on Monday, House Minority Leader Nancy Pelosi wrote, "Nothing about Republicans' tax framework is tax reform.  It's just an unrealistic plan to give rich people a massive tax break while hurting middle class families.