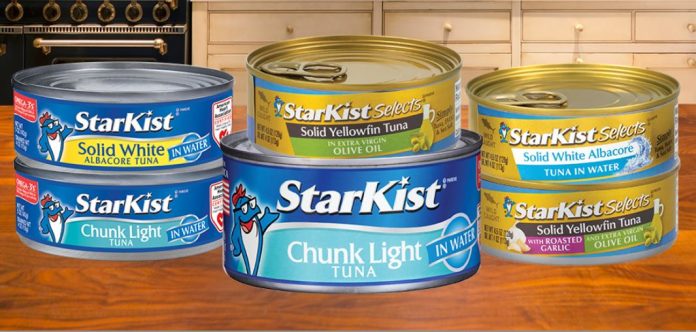 StarKist is facing a penalty of up to $100 million after admitting its role in a conspiracy to fix prices of canned tuna fish in the United States. The food company action is a violation of U.S.  antitrust laws.
On Thursday, the Department of Justice (DOJ) filed charges against StarKist in the U.S. District Court for the Northern District of California.
In the lawsuit, the DOJ alleged that StarKist and its co-conspirators colluded to" "fix, raise, and maintain the prices of packaged seafood. The conspiracy began in November 2011 until December 2013.
According to the Justice Department, the food company and its co-conspirators committed an "unreasonable restraint of interstate commerce." It is a violation of Section 1 of the Sherman Antitrust Act.
In a statement, Makan Delrahim, Assistant Attorney of the DOJ's Antitrust Division, said, "The conspiracy to fix prices on these household staples had direct effects on the pocketbooks of American consumer."
"All Americans have the right to the benefits of free and open competition — the best goods and services at a price free from collusion.  We will continue to hold companies and individuals who cheat consumers accountable," he added.
On the other hand, John F. Bennett, Special Agent in Charge of FBI San Francisco, commented, "Our citizens' confidence in the ability to buy goods within an unbiased market is key to sustaining an efficient and fair economy."
In addition, Bennet said the investigation shows their "commitment to holding corporations and senior leadership accountable." It also represents their dedication to ensuring that they will not tolerate illegal activities such as price fixing.
StarKist is committed to "doing the right thing"
Meanwhile, StarKist President and CEO Andrew Choe, said they "cooperated with the DOJ's investigation and accepted accountability. He added that the company is committed to being "socially responsible and doing the right thing."
StarKist is based in Pittsburg and it is a subsidiary of Dongwon Group, a South Korean company. It is the second corporation in the seafood industry to admit its involvement in price fixing.
Last year, Bumble Bee Foods pleaded guilty to price fixing and agreed to pay a penalty of $25 million. Two of its executives also pleaded guilty for the same offense. Its former CEO Christopher Lischewski is fighting the criminal charges against him for the same reason. He is waiting for his trial.