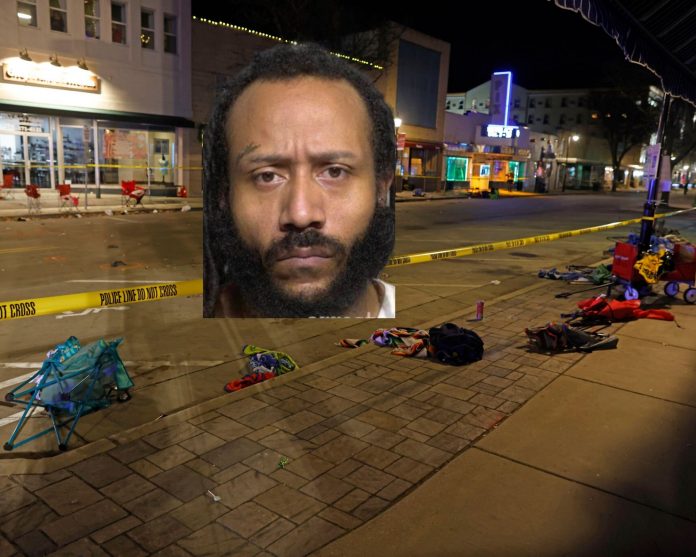 Darrell Brooks Jr., 39, has been identified as the Waukesha parade's person of interest. Brooks, also known as MathBoi Fly, was quickly arrested after the tragedy. He is a local rapper with a very long violent criminal history. 
Parade tragedy started as a holiday event
Here's what is known about the Waukesha, Wisconsin Christmas parade tragedy.
Local police Chief Dan Thompson says that five people were killed and more than 45 were injured during the vehicle's rampage. At least 12 children were hit. And some of the injured remain in critical condition.
Officials reported on Monday that 18 children were treated at the Children's Hospital of Wisconsin. 
Brooks is accused of speeding through barricades and running his red SUV into parade-goers. Sunday's horror took place as families and performers were celebrating the Waukesha annual holiday parade. 
Police opened fire on the SUV after it plowed through the parade. As the SUV ran through another barrier and sped off a Facebook live-stream captured the event. The police had a good description of the vehicle and the first three letters on the license plate ADP.
Officers tracked Brooks to an address in Milwaukee, Wisconsin about 20 miles from the parade tragedy. Court documents link Brooks to the Milwaukee address where he was arrested. And the SUV from the parade rampage was parked in the driveway.
The front of the vehicle was completely caved in right up to the windshield. The bumper and license plate were hanging off the SUV. 
Brooks was immediately detained and arrested. He reportedly was complaining that his shoulder was sore while he was taken into custody.
Chief Thompson said that although Brooks is in custody, it is a "fluid investigation." And that at this time the priority is "working with families" of the victims.
Criminal History and threatening lyrics
The night Brooks plowed into the parade he had been in a domestic disturbance where he threatened a woman with a knife. Investigators are still investigating the alleged crime.
Brooks currently has two criminal cases open in Milwaukee County. On  November 5th, he was charged with resisting or obstructing an officer. And with reckless endangering, disorderly conduct, bail jumping, and battery. He posted a $1,000 cash bond on Friday to get out of jail.
In a July 2020 case, Brooks is charged with reckless endangering and illegal possession of a firearm.
In the November 5th incident, a woman reported to police that Brooks deliberately ran her over with his vehicle. They had been arguing and he plowed into her with his SUV.  She was hospitalized for injuries sustained in the attack.
Darrell Brooks aka MathBoi Fly appears in a music video on YouTube with an SUV that looks like the one used in the parade attack. Brooks wrote many rap songs about killing people.
His playlist on his YouTube channel has the song "Gon Kill U."  It has since been taken down.
He also wrote a song 'X' with the lyrics "f*** Donald Trump" and "f*** the pigs".
And in an old video on one of his Twitter accounts he's cursing and threatening about a speech made by then-President Barack Obama, which he called "a crock of b******".
The mother of his children says that she is horrified that he would be responsible for such violence, especially to children.