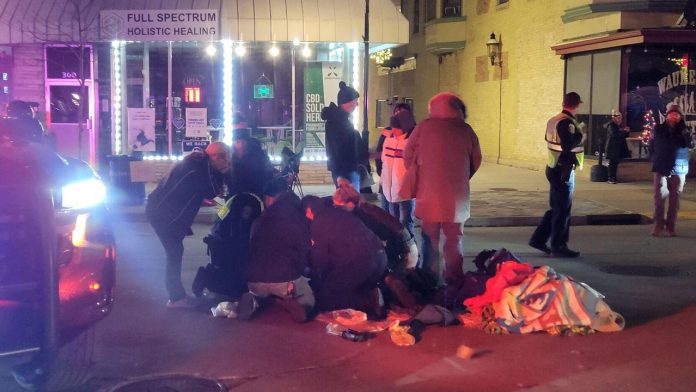 In Waukesha, Wisconsin on Sunday afternoon a red SUV accelerated straight into the annual Christmas parade.  At least 11 adults and 12 children were injured. According to officials, several people are also confirmed dead on the scene.
Waukesha Fire Chief Steve Howard said that  22 people were transported to hospitals via ambulances and police vehicles after being injured. There were also a number of people taken to hospitals by friends and family. 
Waukesha Mayor Shawn Reilly described the incident. "Today we experienced a horrible, senseless tragedy," Reilly said at a press briefing.
"A parade is a celebration for our community. Today our community faced horror and tragedy in what should have been a community celebration." 
Christmas Parade Nightmare live-streamed
Waukesha Police Chief Dan Thompson said that witnesses saw a red SUV breaking through parade barriers and heading west on Main Street.
"The vehicle struck more than 20 individuals. Some of the individuals were children and there were some fatalities, as a result of this incident," the Chief said.
A person of interest was taken into custody within minutes. And police have not yet ruled out terrorism as a motive, according to Chief Thompson.
City employees were live-streaming the parade on Facebook. And dozens of people were seen on the ground injured.
Panicked parade-goers began fleeing in all directions. And the driver was shown speeding off.
Initially, witnesses claimed that shots were fired by the SUV driver. But police clarified that police officers were firing their weapons. And they were firing towards the SUV in an attempt to stop the vehicle.
No parade bystanders were struck by gunfire, Thompson said.
One witness reported that the driver ran over "several elderly women."  They were part of The Dancing Grannies, who perform every year.  And four of the Grannies were on the ground motionless after they were hit. 
Tammy Baldwin, Wisconsin senator offered her condolences for all of the victims.
"The horrific violence at the Waukesha Christmas Parade is just heartbreaking," she tweeted. "Please keep the victims in your prayers tonight."