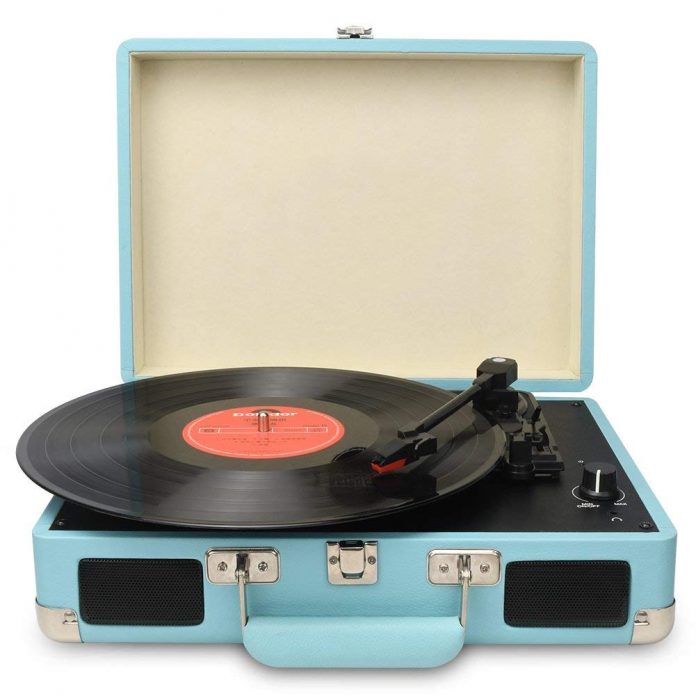 Since 2008 the organizers of Record Store Day have been encouraging music fans to support the 1,400 independent record stores in the US. And countless others around the globe.
Originally, live events and performances, cookouts, and artist meet-and-greets marked the occasion. After two years of virtual celebrations due to the COVID-19 techno-pandemic, there was more in-store activity this year.  And on Saturday vinyl lovers around the world celebrated independent record stores' unique culture.
Taylor Swift was the 2022 global ambassador for Record Store Day. On Saturday she marked the occasion with a 10,000 special limited vinyl release. She released a 2-sided 7-inch record that contains two different versions of "The Lakes' ' from her 2020 "Folklore" album.
In an Instagram post, Swift said she is "honored to be this year's Global Ambassador and glad we get to celebrate these sacred and important places now more than ever."
Taylor's limited-edition releases are available at stores that participate in Record Store Day.
We are so happy to be back in record stores today! Thank you for celebrating the culture of the indie record store.
Happy Record Store Day!!!#RecordStoreDay #RSD22 pic.twitter.com/73yUxSdNG6

— Record Store Day (@recordstoreday) April 23, 2022
New Record Store Day releases 
Over 300 new releases went on sale Saturday. Some of the artists releasing special-edition vinyl recordings to mark the occasion include Madonna, Kacey Musgraves, Blondie, Mariah Carey, Childish Gambino, and the Foo Fighters.
There is a smorgasbord of collector's vinyl available. Some are transparent and others are printed on colored vinyl.
 The 50th anniversary release of "More Hot Rocks (Big Hits & Fazed Cookies)" by the Rolling Stones is on glow-in-the-dark vinyl. And Nicki Minaj's "Beam Me Up Scotty" was issued on a rare marbled fuchsia vinyl.
Some of the Record Day releases are rare cuts. This includes the late David Bowie's "The Brilliant Adventure EP" which features four of his previously unreleased songs.
MRC data confirms that vinyl sales grew by 46% to 27.5 million copies sold in 2020. 2021 showed a 51.4% increase in total sales. 
And in 2021 vinyl also became the most popular physical format for music delivery. It's been tracked since 1991 with MRC Data/SoundScan tracking.