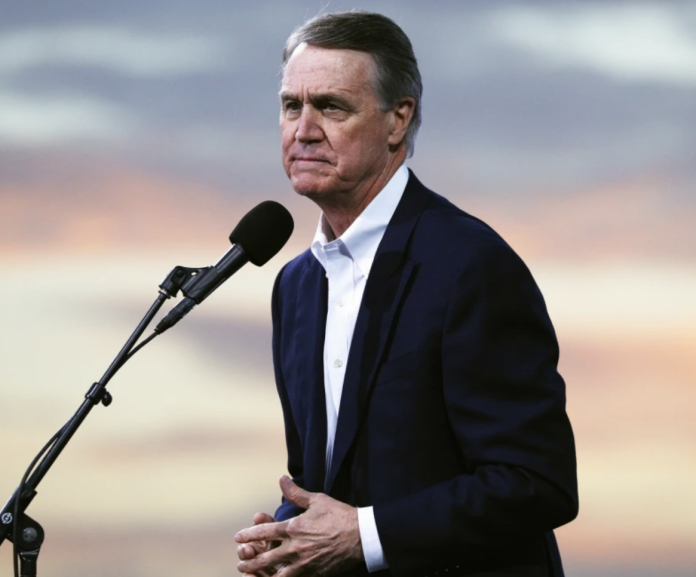 The 2022 Georgia election is one of many gubernatorial races happening across the United States this year.
Last year, Georgia Democrat Stacey Abrams announced her decision to enter the governor's race. Abrams notably ran for Georgia governor in 2018; yet, she endured defeat at the hands of current Georgia Republican Governor Brian Kemp.
At this time, Kemp is currently fighting off a primary challenge from former Georgia GOP Sen. David Perdue. Perdue is currently running to be the 84th governor of the Peach State, but first has to successfully primary Kemp in order to face Abrams in the general race.
On Tuesday, Perdue put out a brand new ad, showcasing a strong endorsement from former President Trump.
A closer look at Perdue's Georgia gubernatorial campaign
The former senator started off the month of February with a brief, yet communicative campaign ad.
The ad features Trump endorsing Perdue as a smart, effective leader; likewise, the former president expressed his beliefs that Governor Kemp fears Abrams and allowed her to walk all over him.
I'm proud to have President Trump's Complete & Total Endorsement. Georgians are tired of do-nothing, weak-kneed politicians. As Governor, I'll be a fighter, who never caves to the woke left.

Conservatives know they can count on me to secure our elections, stop Stacey & save GA! pic.twitter.com/bqN6KrocC8

— David Perdue (@DavidPerdueGA) February 1, 2022
Perdue's campaign ad is furthermore captioned with his commitment to take on woke leftists and be a fighter for Georgians. The former senator also declared that residents of his state have grown fed up with "weak-kneed" politicians.
A closer look at Kemp's Georgia gubernatorial campaign
On the same day that Perdue released his new campaign ad, Kemp's team also put out an announcement of their own. Thus far, the incumbent governor has fundraised $7.4 million over the timeframe of seven months.
According to Kemp campaign manager Bobby Sparrow, the Georgia governor has the critical resources necessary to win this gubernatorial election.
As the parents of three daughters, @GAFirstLady and I know students do best when their parents have a seat at the table and their voices are heard and respected.

That's why we are supporting a Parents' Bill of Rights to promote engaged partnerships between parents & educators. pic.twitter.com/V3OpuTRncV

— Governor Brian P. Kemp (@GovKemp) February 2, 2022
In the wake of Perdue's latest campaign ad featuring Trump, the Kemp team has issued a response as well. Kemp communications director Cody Hall described the latest Perdue ad as the former senator "padding his wallet."
Hall also stated that Perdue is not putting America first.
Recent polling has shown that in a hypothetical Georgia general election, both Perdue and Kemp would wind up defeating Abrams. Both candidates maintain they're the best ones to take her on; time will tell which Republican makes it across the finish line.