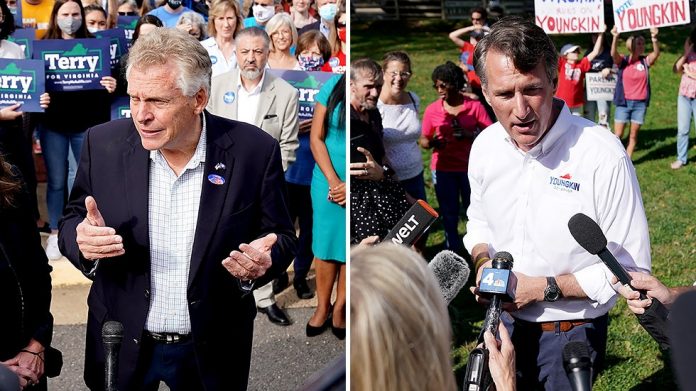 Terry McAuliffe, Democrat candidate for Governor in Virginia claims CRT never taught in the state. And that claim is disputed by the  Virginia Department of Education's website.
 Actually, Virginia's education department promotes critical race theory.  And their  website features a presentation urging teachers to "embrace critical race theory." 
Education has taken center stage in McAuliffe's race with Republican Glenn Youngkin.  And Youngin is promising to raise teachers' salaries and ban CRT from the state.
McAuliffe closes his campaign on Monday with the message that there are too many white teachers in Virginia schools. He wants to reduce the number of white teachers in order to "make everybody feel comfortable."
CRT never taught in Virginia? 
McAuliffe is saying critical race theory is being used by the Republicans to divide people.
 "It's not taught in Virginia and it's never been taught in Virginia," McAuliffe said last week. "And as I've said this a lot, it's a dog whistle. It's racial, it's division and it's used by Glenn Youngkin and others, it's the same thing with Trump and the border wall, to divide people. We should not be dividing people in school."
City Journal's Christopher Rufo, tweeted today that he will "debunk that lie." He then shared a series of screenshots from the state's DOE website. Where CRT is described as the "best practice" for schools.
Teaching a modified CRT curriculum in Virginia schools started in 2019, under the Northam administration. At that time Superintendent of Public Instruction James Lane sent a memo to Virginia public schools endorsing "Foundations of Critical Race Theory in Education," calling it an "important analytic tool" that can "further spur developments in education."
At the district level, Loudoun County Schools has hired a consulting firm to implement "critical race theory" and developed a high school class explicitly teaching "critical race theory." Even the district superintendent admitted the curricula "align with the ideology of CRT." pic.twitter.com/xLJjeXb8eb

— Christopher F. Rufo ⚔️ (@realchrisrufo) October 30, 2021
This June, education officials in Loudoun County, Virginia acknowledged that Critical Race Theory influences their work. And in July it was revealed that a Virginia school district spent over $30,000 on CRT training for administrators.
On Tuesday, November 2nd the voters will decide who will be the next governor.